Retour à la liste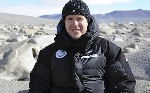 Interview de S.A.S. le Prince Albert II de Monaco
Monaco
Prince Albert talks to Roderick Gilchrist about his trips to Antarctica and the North Pole, his fears for the planet - and the pressure to marry
At lunchtime on Sunday, the roar of F1 racing car engines will echo around the boulevards of Monaco, as Ferraris and McLarens battle for supremacy in the most glamorous of Grand Prix races.
Movie stars such as Brad Pitt and Angelina Jolie will mingle with the super-rich as the cars race past casinos and castles at 150mph, the yachts in Monte Carlo's sun drenched harbour providing an impossibly glamorous backdrop.

Tickets for the race change hands for thousands of pounds, but Prince Albert, the principality's ruler, will watch from the best seat in the house – his pink fortress perched high above the Grimaldi family's fiefdom.
The irony is that His Serene Highness drives an eco-friendly electric hybrid car. He also insists that Monaco's parks are stocked with free bicycles, in the idealistic hope that its residents will pedal around Monte Carlo, rather than be chauffeured in their Bentleys.
In a rare interview, the prince revealed his passion for the environment; his fears for the planet's future; and his fascination for polar exploration that compelled him to follow in the footsteps of the great Arctic explorers. He also talked about his reluctant status as the world's most eligible bachelor.
Visitors to the Grimaldi Palace will find no images of Maseratis cornering at 100mph beside the Café de Paris in Monte Carlo's main square. But in a palace rich with treasures there hangs an apocalyptic image: a framed National Geographic Society poster showing the damage being done to the world by man's abuse of the environment. For the 51-year-old prince, who was enthroned as Monaco's ruler after the death of his father, Prince Rainier III, in 2005, it is a visual reminder of what he sees as his mission in life.
"We must preserve the planet for future generations," he says. "If not, we will kill it. We are all involved and we must all contribute. It cannot be business as usual for the world."
Quietly, the prince has set up a foundation to act as a catalyst for climate change. Nearly 100 projects around the world have been completed at a cost of £14 million, taking drinking water to drought hit areas of Mali in North Africa and wind turbines to India.
The prince is in contact with other European royal families about environmental initiatives and hopes soon to announce a joint project on saving the rainforests with the Prince of Wales.
It would be easy to be cynical about someone who pronounces on the dangers of pollution from the luxury of a fabled palace, but Prince Albert is restless to experience this destruction first hand and has endured considerable hardship in doing so.
Without a hint of boasting, the prince told me he has trekked in sub-zero temperatures to the North Pole, the last 150 miles through icy crevasses on sledges pulled by huskies – a trip inspired by his great-great grandfather, who journeyed to the Arctic 100 years ago but didn't make it to the Pole – as well as slogging through the freezing white deserts of the South Pole.
It was there that the prince spent an emotional hour in the cabin from which Captain Scott set off on his fatal expedition, incredulous that the bunk in which he lay nearly 100 years ago is still preserved, his socks still hanging on a rope line. "Even the stalls where he kept the ponies are still in place," he marvels.
Born into Europe's most glamorous royal family – when his father Prince Rainier married Grace Kelly, the queen of Hollywood, in 1956, wedding guests included Cary Grant, David Niven and Gloria Swanson – Albert's fascination with ecology and preservation began aged seven.
"My father gave me a poster published by National Geographic magazine of how man was polluting the earth. It showed how jet planes were destroying the ozone layers, how the seas were being filled with black acid and the rivers with red silt. I pinned it on my bedroom wall and it was there for many years.
"Later I had it framed and I still have it. It is very powerful. I travel with it sometimes. I think the seed of my convictions began there.
"When I was a boy, we had a private zoo in the grounds of the palace. My mother often took me down to look at the wild animals, which nurtured my love of nature. I had a favourite animal, a gorilla called Gory. He fascinated me. His size and power. The way he would look at me. What was he thinking? He had a tyre in his cage. The way he would swing it or slam it against his tree, the way he would throw his food about if he was mad. Incredible.
"Today we know there is no need for zoos where animals are kept in cages, living in alien conditions, though there is a value in some kinds of captivity to preserve species."
The prince is now changing the nature of his zoo, from a cliffside enclosure where the great beasts of Africa and Asia gazed out uncomprehendingly from behind bars, to a petting zoo where children can get close to smaller animals.
Last year he handed over two of his leopards to Virginia McKenna's Born Free Foundation, which flew them to the Shamwari game reserve in South Africa, where they now live on the savannah. Before they left they were tranquilised and, while they were knocked out, Albert asked to stroke their silky fur in a fond farewell.
Last winter, the prince made the long journey to their new grassy homeland to see how his leopards were enjoying life in the wild. "It was wonderful to see them again. Pitou, the female, came right out when I appeared, though it wasn't because of me but the meal of antelope they had for her! She is braver than the male, Sirius."
I told the prince she bosses her brother, frightening him with her fierceness, and that the Shamwari rangers say it's the way all females behave in South Africa. There is much clubbable laughter at this recognition of she-power – and it seems a good moment to ask about his partner, Charlene Wittstock, who accompanied Albert on his visit to the leopards.
A statuesque blonde who bears remarkable comparison to his mother, Charlene, 31, has been at the prince's side for three years. She is a former swimming champion who has competed for South Africa in the Olympics and is said to be universally popular.
A perfect princess for Monaco, then? There has been much speculation about the date of their engagement. At 51, does he not feel under pressure to marry and produce an heir?
"Well, I've got broad shoulders, big enough to support that kind of pressure… so you go about your business and you don't let it get to you. You follow your own instincts and your own path. You go down that path until you see a future with someone. Is that the answer you're looking for?" A mischievous smile creases his face, then a wink. He is pleased with his deflective answer.
He dismisses as "silly" my suggestion that his sisters' turblent love lives – Caroline has been married three times, Stephanie twice – have made him reluctant to commit.
Yes, but how difficult would it be for Charlene to marry you and follow in the footsteps of your mother Princess Grace, still an icon 27 years after dying in a car crash? "It would be difficult for anybody to follow my mother as the Princess of Monaco."
It was his mother, he says, who gave him a sense of responsibility and built his self-confidence. "I have inherited from her a quiet way of doing things, which people don't notice but which is effective."
It is evident in his indication that Monaco will sign financial treaties with the European Commission and co-operate in the fight against international tax fraud. In the past, they have always guarded the privacy of their residents' accounts, refusing, except in exceptional circumstances, to open up the secrets of their vaults.
Monaco has now been elevated from the OECD's "black list" to a "grey list", pending a full bill of financial health from the international community it expects to receive soon.
"We are on the right track and we sincerely hope to leave the grey list at the end of the year." He has a neat phrase to describe this new era in Monaco's history. "It is not enough to have financial wealth. We must have spiritual wealth as well."
It was evident, too, on a recent trip to Cambridge University, where he addressed Antarctic scientists about his expedition to the bottom of the world. He visited 17 research stations, operated by 15 different countries, in his 22 days at the South Pole.
At lunch in the Master's Room at Jesus College, the prince spoke of his fears for the planet's future. He wants to press for a limitation on the number of cruise ships sailing to the Antarctic because he believes that, without restrictions, they will damage the ecosystem. "More than 46,000 visitors were there last year. Too many. I even saw shipwrecks."
He has all the statistics at his fingertips. "Do you know the weight of the ice cap alone? Thirty million billion tons. Try to get your arms around that! The ice is 4,000 metres thick at its most dense point, yet everywhere there are the signs that even this is melting."
He talked lyrically about the wastes he has travelled through. "The coldest place on earth, where nothing lives but the light, the beauty of the landscape, the emptiness… haunting. It is safe from territorial exploitation for 50 years at least, but the Chinese are there and we must hope that it is for the right scientific reasons."
Albert is clearly in love with the romance of heroic endeavour. After his lecture, the prince visited the Scott Polar Research Institute in Cambridge, which displays relics of the explorers' expeditions. Sledges, photos of schooners navigating treacherous ice packs, even the sleeping bag that Captain Oates stepped from before he delivered the immortal words: "I am just going outside and may be some time."
But it was the last letter written in fading pencil from Captain Scott to his wife Kathleen that held the prince spellbound. For long moments he stood over the words that Scott, fingers weeping with gangrene, had managed to write in a still-legible hand, as the end neared.
"Dearest darling, we are in a very tight corner and I have doubts of pulling through. If anything happens to me, I should like you to know on who my thoughts dwell, waking or sleeping… my dear, my dear, what dreams I had for the future." His eyes misted at this. The next day, he told me: "I was incredibly moved. Such heroism."
I suspect that as he gazes down on the colourful carnival that is the Monaco Grand Prix, orchestrated to the music of engines from cars that cost hundreds of millions of pounds to produce, his thoughts may occasionally wander to the quietest, most desolate place on earth, where it is possible he would rather be.