Back to the list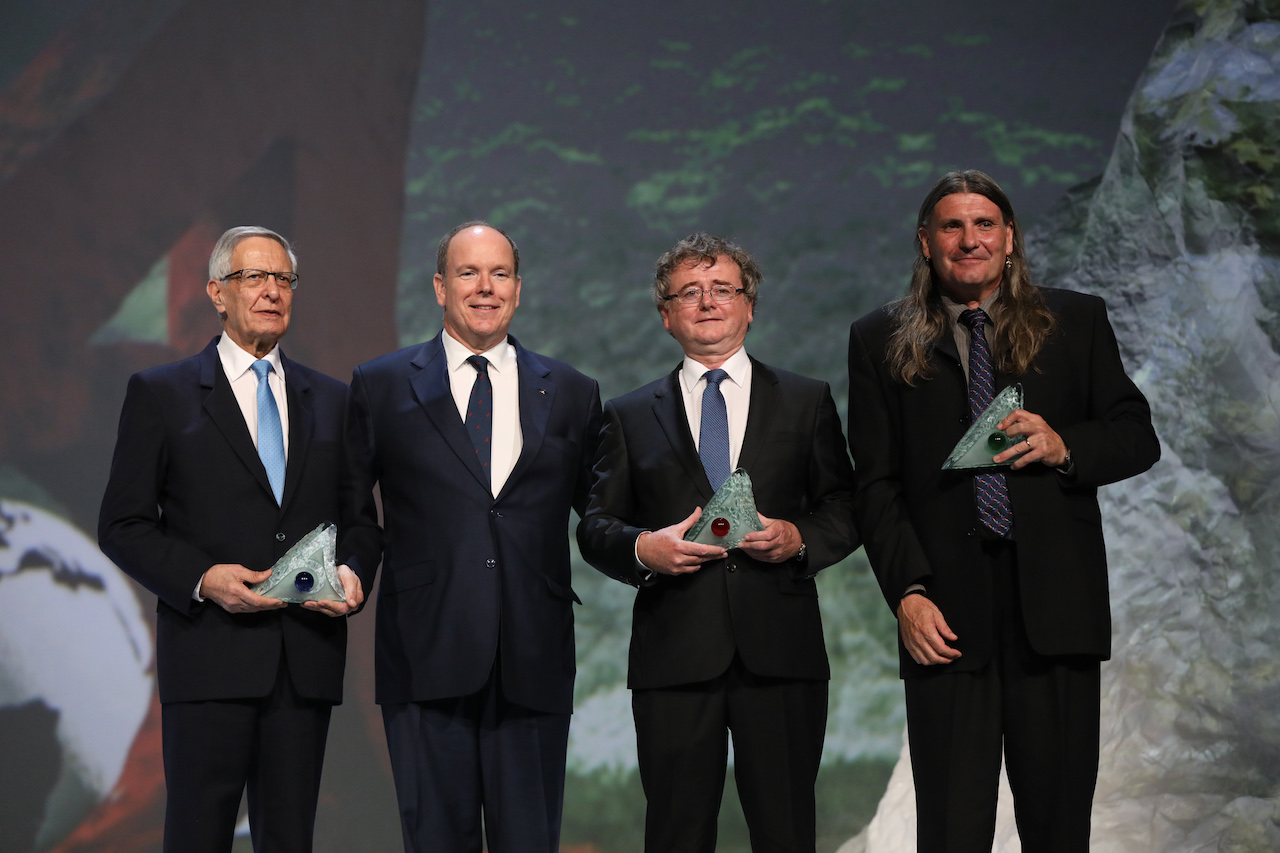 11th Prince Albert II of Monaco Foundation Award Ceremony
Monaco
"I wanted to create these Awards in order to show my support for the exceptional men and women who are committed to saving our planet. »
HSH Prince Albert II of Monaco
Friday 22 June 2018, the 11th Prince Albert II of Monaco Foundation Award Ceremony was held in the Salle des Princes at the Grimaldi Forum. Since 2008, these awards have paid tribute to leading figures and organisations for their deep commitment to preserving our planet, in each of the Foundation's three priority areas: limiting the effects of climate change, preserving biodiversity, managing water resources and fighting against desertification.
During the ceremony in the Salle des Princes, hosted by Marc Maury, the 2018 prizewinners were invited on stage in order to receive their awards from His Serene Highness Prince Albert II of Monaco, highlighting the fact that everyone needs to become involved in saving our planet.
The Argentinian professor Victor Pochat received the "Water Award" for his remarkable work linked to water planning and management, both at a regional level with his contributions to numerous transboundary projects carried out by Argentina and its neighbouring countries, and at an international level collaborating with global organisations. He has played an active role at the World Water Forum since the second forum in The Hague in 2000, and continued to do so at the eighth forum in Brasilia this year. His brilliant academic career allows him to teach both in Argentina and elsewhere, and also to share his experience at international conferences.
Australian Professor Terry Hughes was then presented with the "Climate Change Award" in recognition of his important work on coral reefs, helping to increase our knowledge, particularly with regard to their vulnerability to uncontrolled changes in the climate. One of his papers published in the prestigious journal Science and Nature showed how coral bleaching events are becoming increasingly serious and that the gaps between events are decreasing regularly, giving corals less and less time to recover. While the Great Barrier Reef's state of health is extremely worrying, the impact work carried out by Professor Terry Hughes is of vital importance.
Finally, Jim Thomas received the "Biodiversity Award" on behalf of the Tenkile Conservation Alliance, an NGO in Papua New Guinea that has been working for over 15 years to classify the Torricelli Mountains as a protected area and thus conserve their biodiversity. One of the organisation's most important actions was to ensure the classification of two emblematic tree kangaroo species as Critically Endangered. They would probably be extinct today had it not been for the intervention of the Tenkile Conservation Alliance (TCA). Since their classification, their numbers have in fact risen considerably and their range expanded. This is a great victory for Jim Thomas and his wife, who together were at the origin of the creation of the TCA.
The three prizewinners posed for the traditional photo, alongside HSH Prince Albert II of Monaco, in a very original and vibrant decor, created especially for the occasion by the Grimaldi Forum Monaco teams.
The exclusive screening of Luc Hardy's film, "Arktika Incognita" closed this event, taking viewers on a journey to the mysterious islands of Siberia, following in the footsteps of Captain Georges De Long, who discovered them in 1879.