Back to the list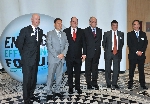 2011 Euro-Mediterranean Energy Efficiency Forum
Monaco
Johnson Controls, thePrince Albert II of Monaco Foundation, and The Climate Group Promise Action at 2011 Euro-Mediterranean Energy Efficiency Forum
MONACO – (May 11, 2011)– Johnson Controls, the Prince Albert II of Monaco Foundation, and The Climate Group today opened the 2011 Euro-Mediterranean Energy Efficiency Forum (EEF) with the promise to highlight smarter ways to promote energy efficiency to help meet international climate and energy objectives. The event, which was opened by His Serene Highness Prince Albert II of Monaco, is themed "Energy Efficiency – Time to Get Smarter" and will explore integrated ways to promote efficiency in manufacturing, buildings and cities in Europe and the Mediterranean Basin.
Central to the discussion will be the need to take an approach that encompasses policy, funding, technology, business value and communication to achieve European Climate and Energy objectives, which include a 20 percent reduction in greenhouse gas emissions and a 20 percent increase in energy savings by 2020. Experts from government, non-government organizations, foundations, as well as public- and private-sector companies will discuss integrated approaches to improve efficiency in sectors that account for the vast majority of CO2 emissions and energy use. In Europe, buildings are responsible for 40 percent of energy consumption and 36 percent of CO2 emissions and represent the most cost-effective way for countries to meet international targets. The manufacturing and industrial sector produces 28 percent of CO2 emissions and accounts for 21 percent of energy usage.
Iain Campbell, Vice President and General Manager Global Energy and WorkPlace Solutions for Johnson Controls, said, "International legislation and targets to drive energy efficiency and CO2 reduction are implemented at a local level by member states, which can use any number of strategies. But policy doesn't exist in a vacuum. It needs to be combined with access to funding, the right technology and be of value to business and the economy. There are many ways to do that and the 2011 EEF will explore integrated approaches to energy efficiency and share best practices from all stakeholders in the discussion. I would like to thank our partners –the Prince Albert II of Monaco Foundation and The Climate Group – for their invaluable support in ensuring this event is insightful, provocative and promotes action."
His Serene Highness Prince Albert II of Monaco, commented, "I believe that our role today is to develop and make possible a fully environmental project – this means putting the protection of our planet before everything else, yet it also has to be a fully humanist project – never forgetting that the key value is always humankind, human life, happiness and emancipation from material constraints. Increased energy efficiency, together with finding renewable and non-polluting energies, is for me an opportunity which should always be given absolute priority. Because such an opportunity appears to me to offer our fellow human beings prospects that are directly and collectively beneficial. For those wanting to act for the protection of the environment, energy efficiency maps out the path for concrete, flexible, varied and immediate action."
Mark Kenber, CEO, The Climate Group, said, "Energy efficiency is not only the most economic way of reducing emissions in the short term, but it is also the most socially progressive, as it helps businesses and households to reduce their energy bills and save money. While many businesses are behind a more ambitious EU emissions reduction target, the EU government should also strengthen its commitment to creating an energy efficient Europe by making its energy saving target legally binding. The Climate Group is proud to be a lead partner in the Energy Efficiency Forum 2011."
Speakers at today's forum include:
· Anthony Malkin – Owner of the Empire State Building
· Éric Besson – French Minister of Industry, Energy and the Digital Economy
· Rudolf Anschober – Minister of Environment, Energy, Water and Consumer Protection in Upper Austria

· Alain Hubert – Chairman of the International Polar Foundation

· Michael Geissler – CEO of the Berlin Energy Agency

· Marc de Jong – CEO, Philips Professional Lighting

· Paul Dujardin – CEO of the Palais des Beaux-Arts in Brussels

· Helene Gassin – Vice President of the region of Ile de France
The inaugural Euro-Mediterranean EEF was held last year in Monaco and played an important role in increasing awareness of the importance of energy efficiency among policy and decision makers in the Europe and the Mediterranean Basin. The Euro-Mediterranean event is modelled on the Energy Efficiency Forum held annually in the U.S. since 1990 and co-sponsored by Johnson Controls, the global leader in delivering solutions that increase energy efficiency in buildings. The 22nd U.S. Energy Efficiency Forum will take place on June 16, 2011 in Washington, D.C.
All greenhouse gas emissions relating to the organisation of the 2011 Euro-Mediterranean Energy Efficiency Forum will be offset thanks to the Prince Albert II of Monaco Foundation's "Monaco Carbon Offsetting" programme.
For more information on the Euro-Mediterranean EEF, visit: www.ee-forum.eu
About Johnson Controls
Johnson Controls is a global diversified technology and industrial leader serving customers in more than 150 countries. Our 142,000 employees create quality products, services and solutions to optimize energy and operational efficiencies of buildings; lead-acid automotive batteries and advanced batteries for hybrid and electric vehicles; and interior systems for automobiles. Our commitment to sustainability dates back to our roots in 1885, with the invention of the first electric room thermostat. Through our growth strategies and by increasing market share we are committed to delivering value to shareholders and making our customers successful. In 2011, Corporate Responsibility Magazine recognized Johnson Controls as the #1 company in its annual "100 Best Corporate Citizens" list. For additional information, please visit http://www.johnsoncontrols.com
About The Climate Group
The Climate Group (www.theclimategroup.org) is an independent, not-for-profit organization working internationally with government and business leaders to advance smart policies and technologies to cut global emissions and accelerate a clean industrial revolution. We are the world's most influential global coalition of major businesses, cities, states and regions that recognize the economic and environmental imperatives of taking decisive action now. The Climate Group was founded in 2004 and has operations in Australia, China, Europe, India and North America.