Back to the list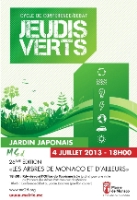 26th Green Thursday Event - Thursday 4th July 2013
Monaco
26th Green Thursday Event - Thursday 4th July 2013
"The trees of Monaco and elsewhere" Meeting point in front of the Tourist Office / 6.45 p.m.: Lecture & debate in the Japanese Gardens

To mark the last Green Thursday event of the season, the Monaco City Council and the association MC2D are inviting you to the preview launch of the " Heritage Trees of Monaco Walking Tour" The project, resulting from the cooperation between the Prince Albert II of Monaco Foundation, the Tourist and Convention Authority, the Department of Urban Amenities and the Société des Bains de Mer, forms part of the initiative "Monaco makes a commitment against deforestation".
Through the chosen theme "The trees of Monaco and elsewhere", this edition will offer participants the opportunity to take part in an instructive walk to see some of the Principality's finest trees, as well as to find out about the local and/or international efforts made by various Monegasque players to actively combat the destruction of the Earth's major forests.
The event will begin at 6.00 p.m. at the top of the Petite Afrique Gardens, behind the Tourist Office. During this interactive urban walk, fifteen or so species of remarkable trees will be pointed out to the participants who will then be led to the Japanese Gardens.
At around 6.45 p.m. in the covered pavilion, various Monegasque players will show how they have made a commitment by means of the "Wood Charter" initiated by the Prince Albert II of Monaco Foundation and proposed to all professionals, private and public alike. On this occasion, the Monaco City Council will sign the "Wood Charter".
The Principality of Monaco has developed an exemplary approach so that all of us, consumers and professionals working in the timber industry, are able to take action and consequently help to promote sustainable forestry management while respecting the populations and biodiversity.
The discussions that follow will offer everyone the opportunity to exchange views on the actions carried out by each player involved in these efforts, whilst the constructive ideas that emerge will subsequently be submitted to the corporate heads and public services concerned.
Free admission to all.