Back to the list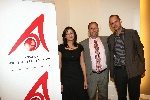 Avara Institute for Environmental Studies in the Principality
Monaco
The Prince Albert II of Monaco Foundation is funding two grants for an Israeli and a Palestinian student for the 2008-2009 academic year.

The Avara Institute is an educational and research institute on environmental issues. It encourages environmental cooperation between nations, and works towards peace and sustainable development in the Middle East.

The institute is situated in Israel in the Southern Arava Valley close to the Syrio-African rift, the Jordanian and Egyptian borders and the Gulf of Aqaba/Eilat. It welcomes Israeli, Palestinian and Jordanian students and researchers who would like to invest in environmental protection.

The two students, the first a Palestinian, Miss Lina Ismail and the second an Israeli, Mr Eitan Amiel, accompanied by the Director of the Institute, Mr David Lehrer, were welcomed by the Prince Albert II of Monaco Foundation and met the key players in environmental issues in the Principality.