Back to the list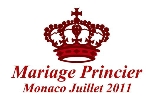 Carbon offsetting and environmental measures for the Royal Wedding
Monaco
A Carbon Inventory for all the events and festivities organised on the occasion of the Royal Wedding is currently being prepared by the Prince Albert II of Monaco Foundation and will be finalised at the end of the wedding celebrations.
For the past 4 years, the Foundation has been implementing the "Monaco Carbon Offsetting" (MC02) programme, which offers private individuals and companies the opportunity to offset their greenhouse gas emissions on a voluntary basis.Many Monegasque institutions and the government in particular use this programme.Since the accession of H.S.H. Prince Albert II of Monaco, all the emissions generated by his air travel have been offset.It was therefore quite natural that the Sovereign was eager for all the emissions generated by his wedding to be offset.
Most of the emissions for such an event are caused by guest travel, but the trips made by suppliers, the official dinner and the energy necessary for the various shows and festivities will also be offset.
The MC02 programme uses exclusively CER type carbon credits from CDM (Clean Development Mechanism) projects, which have all been certified by the Secretariat of the United Nations Framework Convention on Climate Change (UNFCCC). Since it was first introduced, the programme has offset over 20,000 tonnes equivalent of CO2, by funding projects concerning, for instance, household waste methanation plants in Chile, Brazil and Argentina, and a small hydroelectric plant in India.
In addition, special focus has been placed on other environmental aspects in order to limit the level of emissions, for example by using locally produced foods only for the official dinner prepared by Mr Alain Ducasse, thus limiting transport-related emissions.
As far as the pyrotechnics are concerned, the greenhouse gas emissions from a firework display are insignificant - the greatest impact on the environment is the pyrotechnic waste.Consequently, all such waste will be destroyed on approved sites, in accordance with very strictly defined procedures.The site being used by the contractor, Planète Artifices, is classified SEVESO II and all the bombs used for the displays are made in biodegradable paper shells.
As for the energy used for the various events, most of the electricity will come from "EDENERGIE", the green energy programme implemented by SMEG, the Principality's energy distributor. Through this programme, an equivalent amount of renewable energy will be purchased - in this case from hydro-electric power stations, of which there are many in the neighbouring Alps – to that used for the event. Any additional fuel consumption required for the electric generators will be offset by the MC02 programme.
The carbon inventory is being prepared using the methodology and standards recommended by ADEME (French Energy Management Agency).
# # #
For further information, contact:
Raphaël Cuvelier, projects coordinator and carbon inventory expert
Prince Albert II of Monaco Foundation
Villa Girasole, 16, Boulevard de Suisse
98000 Monaco
Email:rcuvelier@fpa2.mc