Back to the list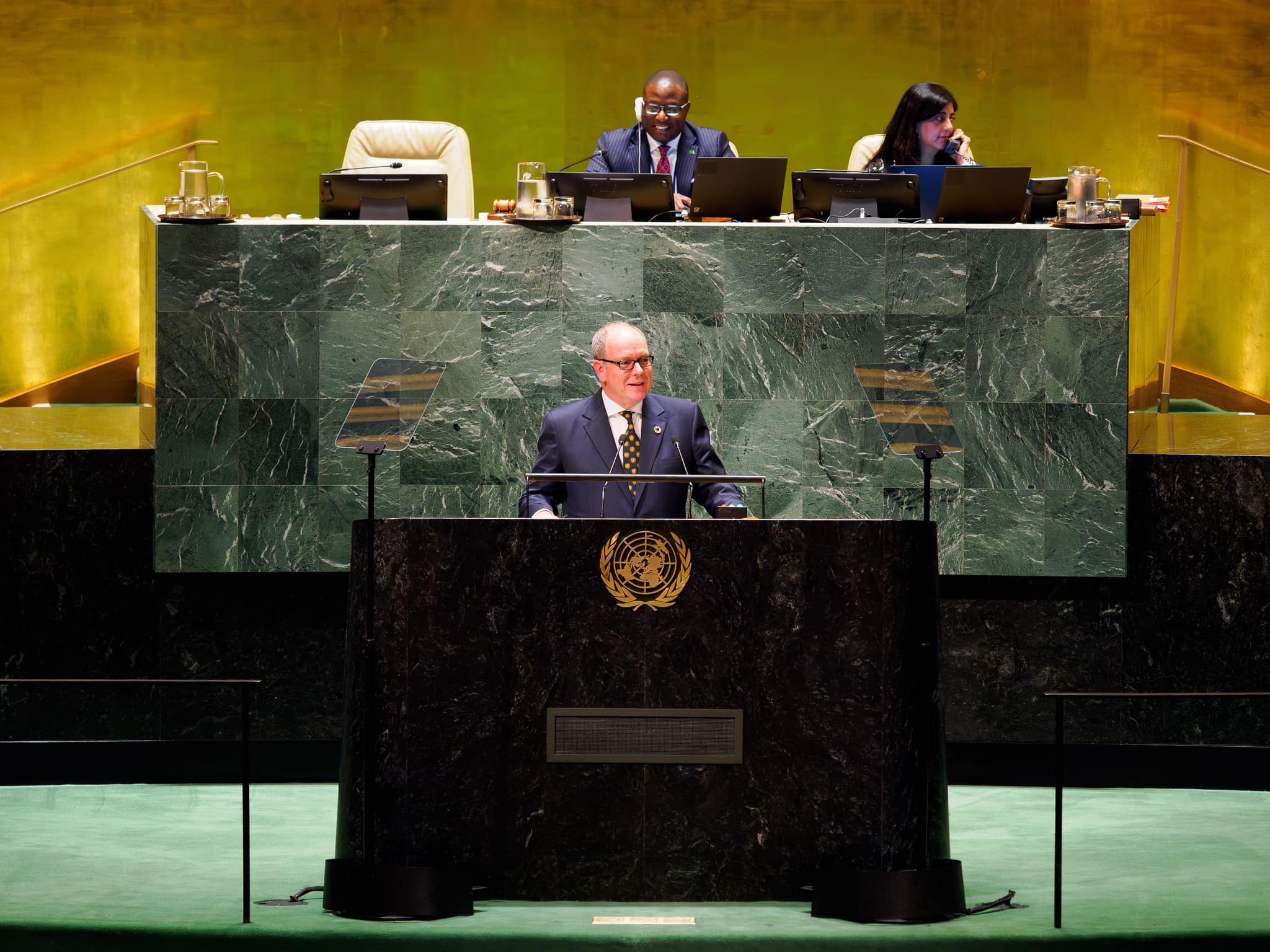 Climate Week 2023
Article
From September 18 to 20, HSH Prince Albert II of Monaco traveled to New York to participate in the 78th UN General Assembly. During His visit, the Sovereign Prince engaged in diplomatic meetings, discussions with political figures, and interactions with business leaders.
Climate Action Advocacy
On September 20, Prince Albert II demonstrated his commitment to environmental conservation by being among the first Heads of State to sign the Treaty on the High Seas.
The Sovereign then addressed the UN to call for drastic measures to be taken to limit global warming. This challenge can only be met through a collective effort by all countries. His Serene Highness also raised the issue of the integration of artificial intelligence into our societies and our lives.
Click here to watch HSH Prince Albert II of Monaco's UN address
Prince Albert II of Monaco Foundation at Climate Week
The Prince Albert II of Monaco Foundation actively participated in Climate Week, advancing its mission to protect and progress planetary health.
On September 18, MIT Solve, an initiative of the Massachusetts Institute of Technology with a mission to drive innovation to solve world challenges, announced its 2023 Solver class of 31 tech-innovators. The announcement was made during Solve's annual pitch event.
At this event, Romain Ciarlet, Executive Director of the Prince Albert II of Monaco Foundation, presented the Prince Albert II of Monaco Ocean Innovation Prize, supported by the Foundation, to Omiflo, an African-based organization that is redefining wastewater treatment. Omiflo's innovative approach not only eliminates odors, energy consumption, and chemical discharge in the natural environment but also creates significant economic, social, and environmental value. Their commitment sets an inspiring example.
On September 19, HSH Prince Albert II of Monaco, HE Mrs Isabelle Picco, Permanent Representative to the United Nations in New York, and Mr Olivier Wenden, CEO of the Prince Albert II of Monaco Foundation, participated in The Earthshot Prize Innovation Summit, in the presence of HRH Prince William and Mike Bloomberg, Founder of Bloomberg Philanthropies.
The Earthshot Prize, founded by HRH Prince William, exists to discover, spotlight and help grow innovative solutions that are working to repair and regenerate our planet. To help drive meaningful change, the Summit convened the new and previous Earthshot Prize Finalists and Winners with forward-thinking business leaders, philanthropists, and governments already working to regenerate the planet.
On this occasion, Olivier Wenden took part in the "Funding Solutions" panel.
On September 20, HSH Prince Albert II of Monaco and Lukas Walton engaged in a fruitful discussion. The focus of the meeting was on a convergence of Builders Vision and the Prince Albert II of Monaco Foundation's common interest in ocean conservation and prospective investments in innovative ocean son namely around the Global Fund for Coral Reefs, Ocean Innovators Platform (OIP), and the ReOcean Fund.
HSH Prince Albert II's visit to New York during Climate Week underscored his commitment to environmental stewardship and global cooperation. The Prince Albert II of Monaco Foundation, under His leadership, continues to drive positive change and inspire innovative solutions in the fight against climate change.

Photo credit: ©Michael Alesi / Palais Princier