Back to the list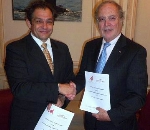 COMODOS and ANEMOOS wind turbines receive the support of the Prince Albert II of Monaco Foundation
Monaco
A framework partnership agreement was signed between the Prince Albert II of Monaco Foundation and the COMODOS Company in the Villa Girasole, on Tuesday 31st January 2012.
The Foundation, created by His Serene Highness Prince Albert II of Monaco, is active in the fields of climate change and renewable energy, biodiversity, water and the fight against desertification.
Its objectives are to raise awareness of both the populations and States about the impact of human activities on the natural environment, to foster more respectful behaviour towards the environment and to encourage outstanding initiatives and innovative solutions.
The Prince Albert II of Monaco Foundation's mission is to develop partnerships with public and private players who share the same environmental values and are committed to reaching the same objectives, in order to identify and support the implementation of projects in line with its priorities.
COMODOS is a Monegasque company that designs, industrialises and distributes the ANEMOOS range of vertical axis wind turbines, to promote the use of wind power. Boasting reliable and innovative technology, the wind turbines can be installed directly onto the roofs of buildings in urban or farming areas, maritime or mountainous areas and remote areas. They are made from 85% recycled polymer and are 100% recyclable. They have an annual production capacity of 3,500 KW/H for the ANEMOOS 3 and 16,000 KW/H for the ANEMOOS 6.
With the support of the Foundation, COMODOS has taken up the challenge to innovate, in the certainty that it shares the same strategy, code of practice and values as the Principality in terms of renewable energies.
Positioned on a fast-growing international market, the Monegasque company COMODOS aims to become a benchmark player in the design and distribution of vertical axis wind turbines specifically designed to offer sustainable and ecological solutions to the medium-power wind energy market.
With the signing of the framework agreement today, COMODOS has joined the MCO2 programme - irreducible emissions generated from the production of each wind turbine will be offset by the purchase of carbon credits from the MCO2 programme (CARBON OFFSET).
COMODOS has placed the focus on sustainable development and solutions for its production process, by linking the Foundation's image with the ANEMOOS project and by making a commitment to the FOUNDATION through the implementation of a profit sharing agreement.A portion of the selling price of each wind turbine will go to the Prince Albert II of Monaco Foundation in support of its sustainable development activities worldwide.
The Foundation will promote this support by placing the Foundation's logo and the wording "CARBON OFFSET" on all ANEMOOS wind turbines.
The Foundation and COMODOS wish to develop technical, scientific and methodological cooperation which shall enable them to pool and to benefit from their specific expertise and experience concerning the selection, monitoring and appraisal of projects relating to renewable/alternative energies.