Back to the list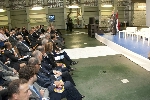 Conference - Law of the Sea, 30 years after Montego Bay, economic opportunities and environmental challenges
Monaco
The Rio+20 conference recognised the importance of the oceans in the balance of our planet's global environment.The final resolution highlights the magnitude of threats hanging over them yet contains no concrete commitment.
It would appear necessary to hold further discussions with a view to complementing the regulatory standards applicable to the High Seas so as to identify provisions that will lead to sustainable ocean management, preserve their biodiversity and the marine ecosystems.
Alongside H.S.H. Prince Albert II, political leaders as well experts on the marine environment and the law of the sea will be attending this event.
The aim of the conference is to promote, as the 30th anniversary of the United Nations Convention on the Law of the Sea draws near, new avenues for reflection to enable us to lay the foundations for efficient High Seas governance.
Based on the latest research in this field, the conference will examine:
The consequences on the environment of increased off-shore human activities over the last few years,
The solutions provided by UNCLS, as well as the limits of this founding framework,
The prospects to implement the existing regulatory framework more effectively and, if necessary, to supplement it.