Back to the list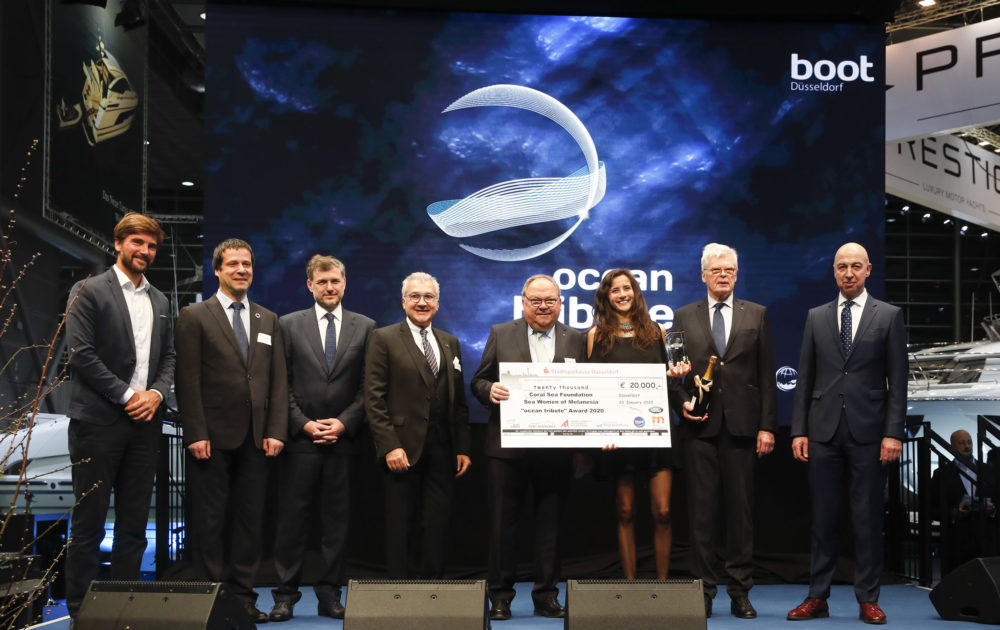 Coral Sea Foundation winner of the Ocean Tribute Awards at the BOOT Düsseldorf 2020 in Gemany
Monaco
During the 51st edition of the famous Boot Düsseldorf Boat Show, which took place from January 18 to 26, the Prince Albert II of Monaco Foundation, the Boot Düsseldorf and the German Ocean Foundation awarded the Ocean Tribute Awards, which have been rewarding projects committed to marine conservation since three years.
During the Blue Motion Night on 20 January, Mr Bernd Kunth, former President of the German branch of the Prince Albert II of Monaco Foundation, presented the 2020 Ocean Tribute to the Coral Sea Foundation for its "Sea of Women" project, which has been helping Melanesian populations and coral reefs for the past four years. The Foundation is working in this island in the Pacific Ocean, with its rich marine biodiversity, to sustainably manage the last large reservoir of coral reefs and develop marine reserves, enhancing fishing and ecotourism resources and the livign conditions of the inhabitants.
Coral Sea Foundation was awarded a cheque for €20,000, which will enable it to launch a marine conservation initiative in Papua New Guinea and also to carry out a programme of five expeditions through the Eastern Coral Triangle. In addition, Coral Sea Foundation is committed to training some twenty other women to become reef guardians in their local communities.
The Sea of Women program also offers training in scuba diving and marine biology techniques to raise awareness and inspire them to take action to protect the oceans. Coral Sea Foundation encourages the collaboration of local communities and the participation of women in this training programme while supporting partner villages to initiate a process of creating marine reserves on their traditional reefs.