Back to the list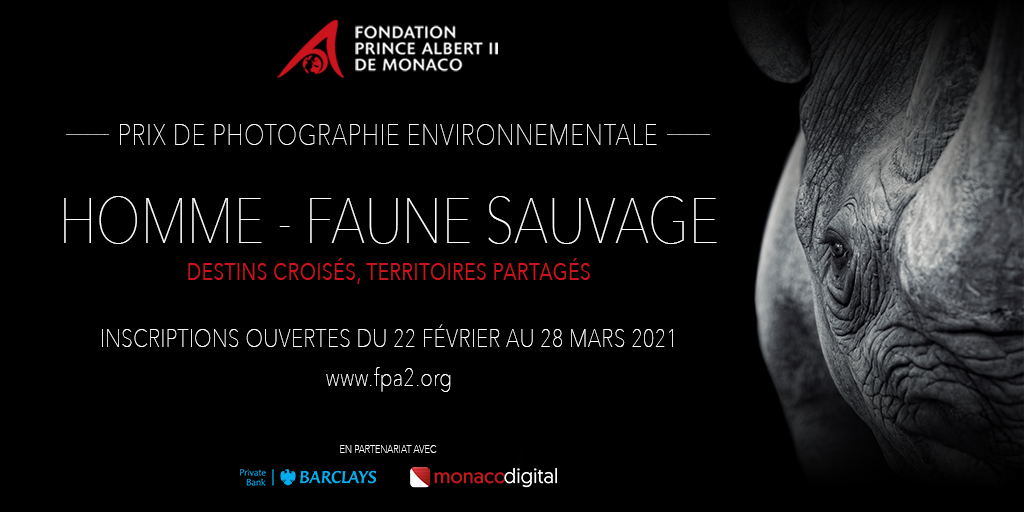 Environmental Photography Award of the Prince Albert II of Monaco Foundation
Monaco
The Prince Albert II of Monaco Foundation is launching, on the occasion of its 15th anniversary, an international photography contest, in partnership with Barclays Private Bank and Monaco Digital, on the theme: "Humanity - Wildlife: crossed destinies and shared territories".
"We are very pleased to inaugurate this contest, with high quality partners and a jury of recognised and passionate professionals, around a strong theme, especially relevant in the current context of the health crisis. We hope that this campaign will contribute to efforts deployed to develop more harmonious relations with nature" explains Olivier Wenden, Vice-President and CEO of the Foundation.
Registrations are open from February 22nd to March 28th, 2021, via the specialised platform Photocrowd. Participants can now submit up to five photographs in one or each of the competition's categories:
Incredible wildlife
Wildlife in crisis
Reasons for hope
Participants simply have to upload their files on the dedicated page of the photo contest: https://www.photocrowd.com/pa2faward/
The jury, made up of professional photographers and representatives of entities committed to more sustainable development, will select the winner of the Foundation's Environmental Photography Award as well as the winners for the three categories of the contest.
The general public will also be able to vote for their favourite photographs directly on the contest page.
Composition of the jury:
Ragnar Axelsson aka RAX, Photojournalist & Documentary Photographer specialising in the Arctic
Laurent Ballesta, Photographer & co-founder of Andromeda Oceanology
Anthony Boira, CEO of Monaco Digital
Nick Danziger, Photojournalist, Honorary Fellow of the Royal Photographic Society, Winner of the Royal Geographical Society's Ness Award,
Frederick Dharshie Wissah, CIWEM Environmental Photographer of the Year 2019
Daisy Gilardini, Environmental Photographer specialising in the polar regions
Jean-Michel Krief, Photographer and co-founder of the Sebitoli Chimpanzee Project in Uganda
Lisa Samford, Executive Director of Jackson Wild
Olivier Wenden, Vice-President of the Prince Albert II of Monaco Foundation and President of the Jury
The winner of the Foundation's Environmental Photography Award will receive an endowment of 6,000 euros and the winners in the different categories will receive 1,000 euros each. The three public prizes will be endowed with 500 euros.
The most beautiful photographs will be presented, from May 4th to June 1st, 2021, as part of an urban exhibition in the Principality of Monaco, organised on the occasion of the Foundation's 15th anniversary.