Back to the list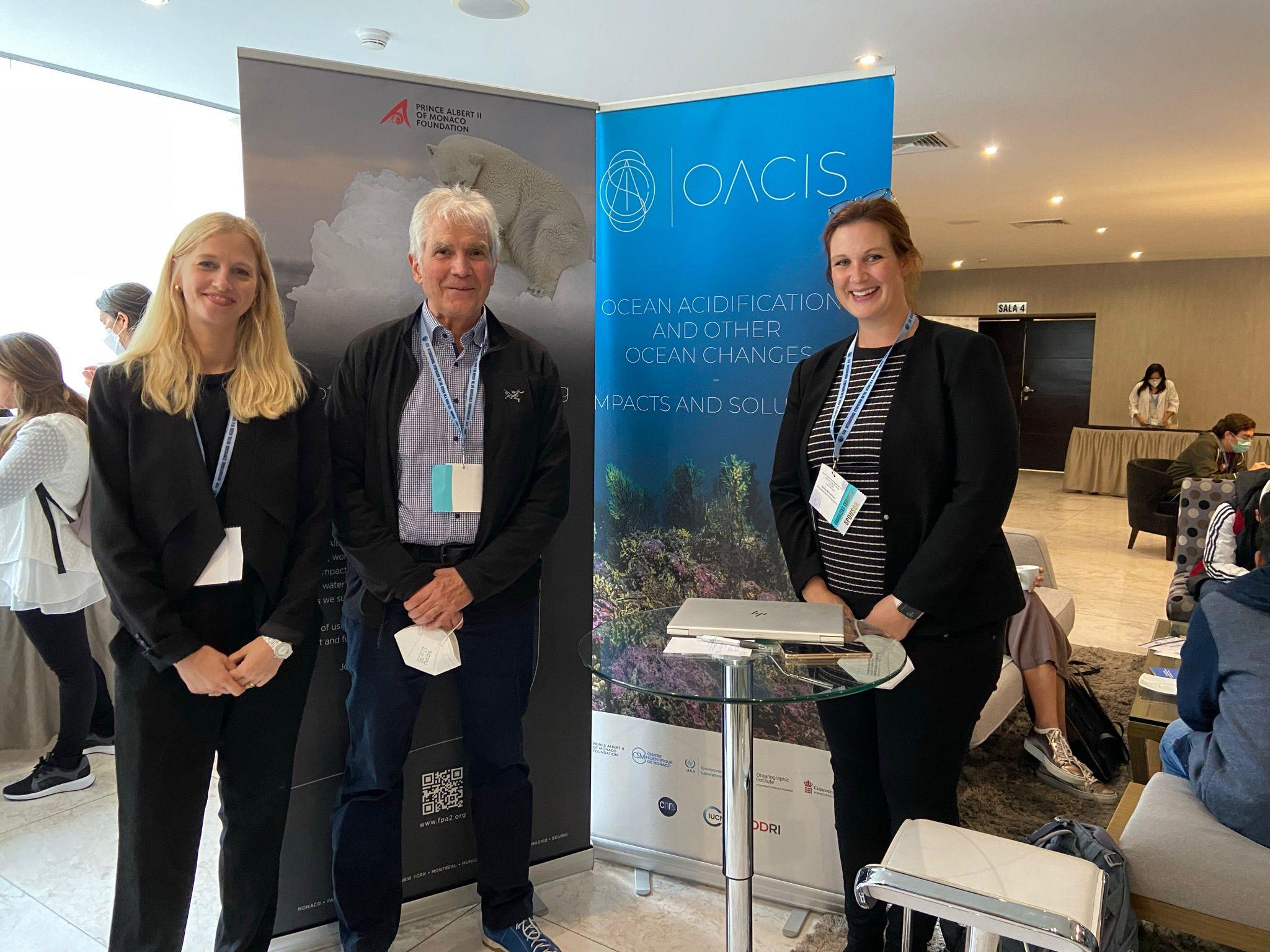 Fifth Symposium on the Ocean in a High-CO2 World: The latest research on ocean acidification reviewed in Lima, Peru
Events
Initiative
What kind of scientific information do we need to best tackle ocean acidification? Which marine organisms and ecosystems are most affected, which regions are most sensitive today, and which ones will be so in the future? How is ocean acidification impacting food security and livelihoods, such as aquaculture and fisheries, and how can society adapt?
The Fifth Symposium on the Ocean in a High-CO2 World, hosted by the Universidad Nacional Pedro Ruíz Gallo in Lima, Peru, from 13 to 16 September, convened close to 300 researchers from all over the world to discuss the latest findings in ocean acidification research.
This Symposium series, organized every four years, is the largest scientific multi-disciplinary gathering of researchers studying ocean acidification and its consequences, from field monitoring to laboratory experiments investigating impacts on biology and ecology, to modelling future scenarios and potential impacts on society.
Supported by the Prince Albert II of Monaco Foundation, this Fifth edition brought together more than 200 researchers attending in person and 90 participating online. Discussions were organized in six different themes and parallel sessions, with more than 170 presentations and 70 poster presentations.
Monaco hosted the Second Symposium in this Symposium series in 2008, leading to the publication of the Monaco declaration, signed by 155 scientists from 26 countries. At that time, ocean acidification was poorly known. Ever since, HSH Prince Albert II of Monaco has championed awareness raising around ocean acidification, bringing the issue to the attention of His fellow political leaders.
Perpetuating His engagement on the topic, HSH Prince Albert II of Monaco opened the Fifth edition of the Symposium through a video message, stressing that while ocean acidification is a phenomenon harder to portray than extreme weather events, record-breaking temperatures or the disappearance of species, it is now a reality whose economic consequences are directly perceptible and whose effects could be devastating in the long term for many sectors, starting with the farming and harvesting of many shellfish and crustaceans.
"We know that these sectors represent vital sources of income for hundreds of thousands of our contemporaries, and sources of food for millions of them. (…) That is why today's meeting is of particular importance, providing an opportunity to review the state of our knowledge and to identify potential solutions which need to be explored as a priority. The United Nations Decade of Ocean Science for Sustainable Development has created a favourable environment for this, which must also be leveraged."

HSH Prince Albert II of Monaco
The conference discussed critical aspects of data reporting and what kind of scientific information is needed in the context of the Sustainable Development Goals (SDG), where SDG14.3 specifically focuses on ocean acidification, and the UN Decade of Ocean Science for Sustainable Development, spearheaded by IOC-UNESCO. The ocean acidification community has come together through the Decade Program OARS 'Ocean Acidification Research for Sustainability", which proposes a structure for ocean acidification research and capacity building to drive change in the next ten years.
"OARS provides a framework for thinking about the science we need to deliver change for the ocean we want"

Prof Steeve Widdicombe, Director of Science at Plymouth Marine Laboratory and Co-Chair of the Global Ocean Acidification Observing Network (GOA-ON)
"We have come a long way on ocean acidification research, but our job is not done. We need to rethink how we do & communicate science & prioritize our work to foster action in the framework of the UN Decade on Sustainable Ocean Science"

Dr Sam Dupont, Senior Lecturer at the University of Gothenburg and Chair of the SOLAS IMBER Working Group on Ocean Acidification
A key aspect in this context is to fully engage industry leaders and policy makers and make sure that decisions are informed by the latest scientific findings, but also that science is responsive to industry and policy needs. The Foundation supported the organization of a specific workshop in Lima with the aim to translate research results on ocean acidification impacts on oysters, mussels and shrimp to aquaculture practitioners. Jessie Turner, Director of the Alliance to Combat Ocean Acidification, discussed what policymakers need to know about ocean acidification and how to drive positive change and policy action in a plenary talk at the conference.
Lina Hansson, Coordinator of Initiatives at the Prince Albert II of Monaco Foundation, moderated two sessions in Lima, one focusing on capacity building and best practices, and another on international collaboration.

"International and interdisciplinary collaboration and coordination are key to study this complex topic in a holistic way. Providing training and access to data and methods is crucial to build an inclusive research community on ocean acidification. It is encouraging to see scientists of so many different nationalities participating in the Symposium, and in particular the strong contribution from Latin American researchers here in Lima. The Foundation is delighted to support this important gathering, particularly through funding the hybrid set-up of the conference thus ensuring that discussions were made available to a larger audience".
The research community studying ocean acidification has increased significantly in recent years, as has the number of publications on the topic. From only a handful of scientific articles published in 2004 the body of ocean acidification literature now includes more than 10,000 papers. Dr Jean-Pierre Gattuso, CNRS and Sorbonne University Research Director and Co-chair of the International Scientific Committee of the Fifth edition of the Symposium, has seen how ocean acidification research has evolved, and the areas of focus matured.
"We see that research on ocean acidification is increasingly considering multiple stressors, reflected in several presentations at the Symposium. This evolution is crucial, as ocean acidification, ocean warming, and oxygen loss are all happening at the same time. We need to better understand how organisms and ecosystems respond to these concurrent stressors. We also saw the Symposium starting to discuss ocean-based solutions - measures to counter ocean acidification and climate change. It will be increasingly important to study which solutions are feasible, and if there are any negative side effects on any proposed measures on marine life."
The Prince Albert II of Monaco Foundation, the Ocean Acidification international Coordination Centre of the IAEA, the Scientific Centre of Monaco and international partners are collaborating through the OACIS initiative "Ocean Acidification and other ocean Changes – Impacts and Solutions", which specifically focuses on advancing knowledge on these issues.
Notes
Conference support
The Prince Albert II of Monaco Foundation and OACIS were one of the main sponsors of the Symposium, supporting the hybrid version and live streaming of plenary presentations, the support of several early-career researchers and plenary speakers to attend the conference, and the participation of representatives from the aquaculture and fisheries industries. Other major sponsors of the conference included the US NOAA Ocean Acidification Program and the IAEA Ocean Acidification International Coordination Centre, as well as the host University Universidad Nacional Pedro Ruíz Gallo.
What is ocean acidification?
Every day, the oceans absorb more than a quarter of the CO2 emitted by human activities, thereby reducing the amount of this greenhouse gas in the atmosphere. Without the oceans, global warming would be even more severe. However, CO2 absorption leads to changes in the very chemistry of seawater, increasing its acidity.
This phenomenon, known as ocean acidification, impacts many marine organisms and ecosystems, including organisms with a calcium carbonate shell or skeleton, such as corals and mollusks. Occurring in conjunction with ocean warming and oxygen loss, two other major global changes, the effects of acidification could be multiple and difficult to predict.
Ocean Acidification and other ocean Changes - Impacts and Solutions (formerly Association monégasque sur l'Acidification des Océans - AMAO) is a Monegasque association created in 2013 to study the impact of climate change on the ocean, such as acidification, as well as potential solutions to mitigate its impacts. It is coordinated by the Prince Albert II of Monaco Foundation.
OACIS brings together several stakeholders working on the issue: the Prince Albert II of Monaco Foundation, the Monaco Government, the IAEA Ocean Acidification international Coordination Centre, the Monaco Scientific Centre and the Institute of Oceanography, as well as representatives from the French National Center for Scientific Research (CNRS), IUCN and IDDRI.