Back to the list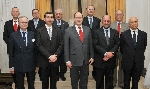 First meeting 2010 for the Board of Directors of the Prince Albert II of Monaco Foundation
Monaco
The Prince Albert II of Monaco Foundation's Board of Directors met on 26th March 2010 for its first meeting of the year under the Chairmanship of H.S.H. the Sovereign Prince.
During the meeting, the Board members approved the Foundation's accounts for 2009, which set out the 118 projects the Foundation has supported since it was first established in June 2006 amounting to a total of 14.6 million Euros.
16 new projects falling under the Foundation's three priority fields of activity were also presented, representing an overall budget of 1.55 million Euros.
Among these new projects and within the framework of the International Year of Biodiversity, 7 initiatives were presented including:
- restoration of the ecosystem on Floreana Island in the Galápagos, conducted by the Charles Darwin Foundation, whose aim is to restore it,
- protection of the last Chad elephants with the association SOS Elephants of Chad,
- preservation of the Bactrian camels in the mountains of Northern China with the Wild Camel Protection Foundation.
In the early afternoon, the Prince Albert II of Monaco Foundation's Biennial General Assembly met at the Hermitage Hotel.