Back to the list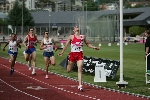 Games of the Small States
Monaco
The eco-efficient organisation of the Games of the Small States of Europe (Andorra, Cyprus, Iceland, Lichtenstein, Luxembourg, Malta, San Marino and Monaco).



"In the face of this extremely worrying situation, highlighted in a recent report by the Intergovernmental Panel on Climate Change (IPCC), we have a duty to set an example and show the way".

An excerpt from the Sovereign Prince's speech at the Scientific and Technical Committee of the Prince Albert II of Monaco Foundation on 16th February 2007.



The Foundation is supporting an eco-efficient approach for the Games of the Small States of Europe, which is being held in Monaco in 2007, by financing its carbon offset and implementing awareness programmes relating to the protection of the environment.

Carbon offset is the process in which greenhouse gases emitted during the event (air conditioning, lighting and catering in infrastructures, as well as transportation means for participants) are compensated.

This will be achieved through carbon sinks (reforestation programmes) and through the implementation of renewable energy production programmes, such as electricity supplied by biogas.

Awareness programmes mainly involve the management of water and paper consumption, as well as waste sorting and recycling.