Back to the list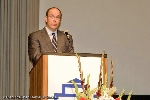 H.S.H. Prince Albert II of Monaco in Munich
Monaco
Tuesday 23rd September 2008 in Munich, H.S.H. the Sovereign Prince was the guest of honour at the conference held by the Association of Foreign Affairs where he gave a speech about: "Environmental protection: a major challenge for the world agenda of the 21st century".

The Association of Foreign Affairs was set up in Munich in 1948 and today groups together over 600 members. Various key figures have taken part in past conferences such as: Henry Kissinger, Michail Gorbatchov…

H.S.H. Prince Albert II of Monaco pointed out that "the nature of the challenge which is our is to think of a long-lasting progress which is not one renunciation; invent a real, united, universal growth, in the service of the human being. A growth which is not made at the cost of the future generations nor at the cost of those who already suffer so much in this uneven world." As a solution to the current situation, the Prince presented his Foundation which acts as an accelerator of environmental solutions based on projects that advocate the sustainable and equitable management of natural resources and which place Man at the centre of its action.

The Prince Albert II of Monaco Foundation is focused on three key concerns: climate change, protection of biodiversity and water preservation in three priority regions which are the Mediterranean basin, the Poles and the countries most vulnerable to climate change.

The Forum also broached topics concerning energy security, renewable energy, and access to resources such as drinking water, so vital for the populations. H.S.H. the Sovereign Prince commended Germany in particular "…. which has been playing a pioneering role for years and whose Chancellor Angela Merkel is a model in this field."

The address by H.S.H. was followed by a discussion with the audience in which H.E. Bernard Fautrier, Vice President of the Prince Albert II of Monaco Foundation and H.E. Claude Giordan, Ambassador of the Principality to Germany, took part. On this occasion, the opening of a new branch of the Foundation was announced for February 2009.