Back to the list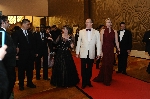 H.S.H. Prince Albert II of Monaco's visit to Asia
Monaco
H.S.H. Prince Albert II of Monaco's visit to Asia
Monaco – (11th December 2012) – Within the scope of his trip to Asia, H.S.H. Prince Albert II of Monaco took part in several events.
During his visit to Singapore, H.S.H. Prince Albert II of Monaco, accompanied by H.S.H. Princess Charlene, attended a gala evening hosted by the Singaporean branch of his Foundation at the Marina Bay Sands Hotel.This fundraising event brought together 600 international figures and resulted in over 400,000 € being raised to support the action implemented by the Prince Albert II of Monaco Foundation.
The Sovereign Prince also took part in an expedition as part of the "Revisited Planet" programme in Papua New Guinea. Having provided support for an initial expedition to Mozambique and Madagascar in 2009, the Prince Albert II Foundation is once again contributing to the discovery of biodiversity for this operation jointly organised by the Muséum National d'Histoire Naturelle, Pro-Natura International and l'Institut de recherche pour le développement (IRD). This expedition took close to 200 researchers, students and volunteers in the field, who analysed the composition of some of the world's most complex marine and terrestrial ecosystems. The terrestrial component will provide new information regarding the distribution of plant and animal species, while the marine component will enable us to improve documentation on the specific composition of some of the world's richest marine ecosystems.
On 6th December, the Sovereign Prince attended the 18th Conference of the Parties (COP 18) to the United Nations Framework Convention on Climate Change (UNFCCC) at the National Convention Centre in Doha - Qatar. The Sovereign Prince held talks with the Ministers for the Environment from the "Environmental Integrity" group, of which Monaco is a member (South Korea, Mexico, Switzerland and Liechtenstein), as well as with Professors Jean Jouzel and Jean Pascal Van Yperselee, both Vice-Presidents of the IPCC (International Panel on Climate Change), a partner of the Foundation. The latter commented on the latest, particularly worrying, projections concerning climate change which go beyond an average increase of 2 degrees in global temperature levels by the end of the century (up to 6 degrees), considered the maximum level beyond which severe upheaval will occur.