Back to the list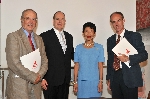 Her Imperial Highness Princess Takamado, Birdlife International's Honorary President on visit to the Principality
Monaco
Her Imperial Highness Princess Takamado visited the Principality of Monaco on Sunday 28th June 2009 and was received at the Palace by His Serene Highness Prince Albert II.
During her stay, Her Imperial Highness met a delegation from the Prince Albert II Foundation and visited the Oceanographic Museum, as well as the Japanese Garden.
Birdlife International, in addition to bird welfare, is a key player in environmental protection in many countries; its action goes beyond the unique theme of bird welfare.
The Prince Albert II of Monaco Foundation is already a partner of Birdlife International for several projects:
-
The conservation of protected albatross and petrel species in the Indian Ocean with the Chizé Laboratory (CNRS) is one of the Foundation's flagship projects in one of its priority regions: the French Southern and Antarctic Lands.
-
The conservation of birds of prey in the Mediterranean region: the bearded vulture and the Bonelli's eagle with the "Ligue pour la Protection des Oiseaux"
-
The project set up by the Tour du Valat entitled "A biodiversity index for the Mediterranean wetlands" for which Birdlife International provides its scientific support.
On the occasion of the visit of Her Imperial Highness Princess Takamado to the Principality, Birdlife International and the Prince Albert II Foundation II concretized their co-operation by the signature of two agreements:
-
A framework partnership on their common goals.
-
A project agreement concerning the measures to save the Mediterranean bald ibis from extinction. The aim of this project is to develop strategies and actions to maintain and preserve these bird populations in their natural habitat.
The visit of Her Imperial Highness Princess Takamado ended with a private dinner given in her honour by Mr Edmond Pastor, General Consul of Japan in the Principality, in which HEM Fissore, ambassador of Monaco to Japan, assisted.