Back to the list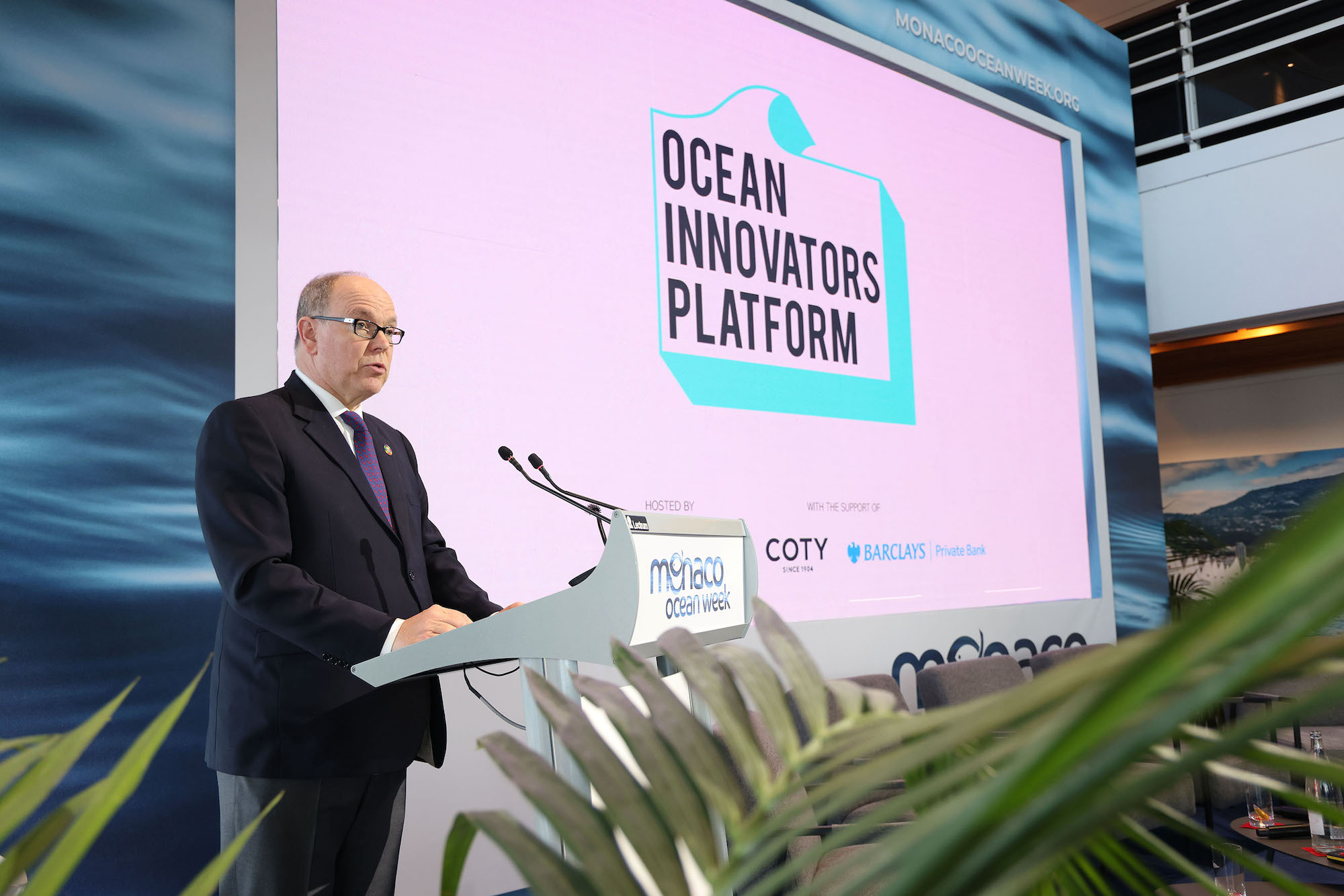 Highlights of the 4th edition of the Ocean Innovators Platform
Monaco
Events
Press release
On Tuesday 21 March, as part of the Monaco Ocean Week 2023, the Prince Albert II of Monaco Foundation organised the 4th edition of its Ocean Innovators Platform. Aimed at promoting entrepreneurship, innovation and investment, this event has become an essential meeting place for highlighting cutting-edge technologies and inventive solutions towards a sustainable blue economy.
" Solutions do exist, as does the will. However, the scale in which we need to take action means that we must give these solutions and this will a new dimension. Above all, it means that we must work together in a coordinated manner with companies, scientists, financial players and all those who make a difference. Without this coordination we will not succeed in giving the various initiatives mentioned here the full scope that they deserve" said HSH Prince Albert II of Monaco.
Mr. Olivier Wenden, Vice-President and CEO of the Prince Albert II of Monaco Foundation, opened this edition by stating that "to achieve SDG 14 [Life below water], by the end of the decade and meet the goals of the Global Biodiversity Framework, philanthropy will not be enough. We need the private sector to scale up and accelerate the existing solutions to implement the necessary change and finally launch the sustainable blue economy that we all are praising for."
At his side, Mr. Gérald Mathieu, Barclays Monaco CEO and Head of Private Bank Europe & Middle East, recalled that "the global challenges we have faced over recent years highlight the importance of a healthy, functioning and sustainable planet". Noting that "environmental and social issues are now a fundamental part of Barclays' DNA", he summed up the objective of the Ocean Innovators Platform: "to bring us together to stimulate lively debate, discussion and action around the important topic of protecting and regenerating the world's oceans."
The first half-day featured three panels.
The first one focused on ocean innovations with Mr Jeff Stoike, Co-Founder, Blue Action Lab, Ms Lisa Hubert, Investment Director, Mirova, Mr Ben Lesage, Global Coordinator, Sustainable Ocean Alliance and Mr Alexis Grosskopf, 1000 Ocean Startups Steering Committee, Ocean Hub Africa CEO. Their discussions focused on the latest advancements and best practices in ocean innovation, as well as practical solutions to address the major challenges threatening life below water.
Mr Jean Castellini, Minister of Economy and Finance of the Principality of Monaco, was invited to share his expertise. The Minister discussed public finances management and blue economy investments outlining that if the trend of "those investments may take back to only a couple of years the Sovereign fund has been investing for over 20 years now in a sustainable manner".
This was followed by a panel discussion on financing ocean innovators, moderated by Mr Damian Payiatakis, Head of Sustainable and Impact Investing at Barclays. The panelists – Ms Rita Sousa, Partner, Faber Ocean, Mr Jamie Rowles, Co-founder, Planet Fund, and Ms Lian Michelson, Investment Director, Vala Capital – discussed the dynamics of this market and how companies, investors and funders can work better together. Mr Payiatakis summarised the sequence as follows: "For our families, family offices and foundations sustainable and impact investing is becoming the new norm. However, oceans are often an overlooked market opportunity. By moderating a panel with active ocean investors, we were able to provide unique insights in how they source, select and support ocean innovators. We want to inspire new ocean investors and give them confidence how they can seek sustainable returns and sustainable oceans".
Finally, the focus was on coastal resilience, which is essential in the face of increasing threats from climate change and the accelerated loss of biodiversity. Panelists Ms Kelly Erhart, Co-founder and President, Vesta, Mr Dale Galvin, Managing Director, Global Fund for Coral Reefs, and Mr James Lindsay, Principal, Builders Vision, highlighted existing best practices in coastal resilience and the challenges and opportunities that arise from them. Mr Rupert Hayward, Director Grand Bahama Port Authority/ Blue Action Lab, detailed the example of the Bahamas in safeguarding the shores.
Wednesday 22 March, after welcoming speeches by Mr Olivier Wenden, Vice-President and CEO of the Prince Albert II of Monaco Foundation, and Mr Mathieu Dufresne, General Manager France at COTY who spoke about the brand's commitment: "At Coty, sustainability is the ultimate driver of innovation. Among the many examples I'm proud of is our introduction of the world's first highly purified ethanol—the number one ingredient in fine fragrance—which we create from upcycled gas emissions. We also brought to market Lancaster's suncare line —the industry's first ever to receive a Cradle 2 Cradle Silver certification for ocean-friendly formulas. Coty was thrilled to partner with Monaco Ocean Week on the Ocean Innovators Platform, where the Prince Albert II of Monaco Foundation brought together key players to create a virtuous circle of excellence in sustainability."
The first panel of the morning addressed the future of coastal tourism. While it represents a key economic sector for the prosperity of coastal populations, it also often has important environmental consequences for marine and coastal ecosystems. Reducing the footprint of the industry and seeking more sustainable and regenerative tourism models is therefore essential, as highlighted by Ms Sara Andreotti, Chief Operation Officer, Shark Safe Barrier, Mr Marc García-Durán Huet, Executive President and Founder, Underwater Gardens, Mr Thomas LeQuinquis, Marketing Director, Lancaster, Ms Ingrid Maurstad, Impact Director, Katapult Ocean, and Mr Sam Teicher, Co-Founder and Chief Reef Officer, Coral Vita.
Mr Nico Rosberg, 2016 Formula One World Champion, and awarded Sustainability Entrepreneur and Greentech Investor, came to testify about his commitment to accelerating green innovation in the search for positive impacts for the benefit of the environment and future generations. Referring to start-ups, he indicated what were for him the two main selection criteria: "First, you invest in people, the founder and his team; second, you look at the market, keeping in mind that potential market size equals potential impact".
A second panel was dedicated to sustainable seafood, which is essential for the conservation of the ocean and the overall planetary health. Discussions covered the current state of seafood production and consumption, sustainable fishing or responsible aquaculture practices and alternatives to traditional products. The "From Sea to Plate" discussion included Ms Carrie Chan, Co-founder and CEO, AVANT, Mr Ofek Ron, CEO, Plantish, Mr Dan Watson, CEO, Safety Net Technologies and Ms Natalie Gartmann, ESG and Impact Manager, Pegasus Capital Advisors.
Three other round tables took place in the afternoon, starting with a panel on the challenges of shipping sustainability, moderated by Ms Desiree Fixler, President of VentureESG. Vital to the global economy as it carries around 90% of world trade, shipping currently accounts for almost 3% of total global emissions and could increase by 84% by 2050 if we do not act urgently in the face of this issue. As highlighted by Mr Johaness Bochdalofsky, Founder, SEAH4, Ms Danielle Southcott, Founder and CEO, Veer, Mr Miguel Navalon, Founder, Navlandis and Mr Sebastian Heitmann, Co-Founder, Extantia Capital, innovation, through different approaches and solutions, will play a significant role in curbing this trend.
The future of coastal infrastructure was then discussed with Mr Børge Bjørneklett, Founder and CEO, Ocean Sun, Mr Tom Birbeck, Founder and CEO, ARC Marine, Mr William Janssen, CEO, Desolenator, Ms Maya Kashapov, Business Development, Captura, and Ms Shruti Iyengar, Investment Manager, Future Planet Capital. These experts, from various fields, shared the latest advancements and best practices in sustainable coastal infrastructure design and development, which is essential for the long-term resilience and prosperity of our coastal communities.
As a precursor to the end of the day's reflections, Mr Rodrigo Garcia Gonzalez, Co-Founder and Co-CEO of Notpla, spoke about the packaging industry that his company has revolutionised. Reducing waste, Notpla's products have been used by a range of companies, including beverage brands, event organizers, and food delivery services. A work recently awarded the Earth Shot Prize.
Finally, the last panel of the day focused on AI. While 90% of the oceans remains unexplored, and more than 80% of the sea floor is unmapped, the collection of ocean data is one of the keys to solving major issues such as overfishing. Mr Joost den Haan, Co-founder and CEO, Planblue, Mr Philippe Despres, University of Laval, Mr Jean Marc Temmos, CEO, Semantic TS, Mr George Richards, Director, Community Jameel and Ms Kortney Opshaug, Founder and CEO, Blue Ocean Gear, testified to the growing corporate interest and unprecedented technological advancement in the data space that are currently transforming the way we understand and manage our ocean.
The 4th edition of the Ocean Innovators Platform was closed by HSH Prince Albert II of Monaco who thanked all participants for their contribution to the Ocean Innovators Platform and to extend the discussions beyond this event in order "to build an effective and original community to promote the ocean."
Photo credit: ©JC Vinaj/FPA2