Back to the list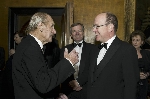 HSH Prince Albert II in Cambridge for the commemoration of the centenary of the Scott expedition
Monaco
For the commemoration of the centenary of the Scott expedition to the South Pole, HSH Prince Albert II went to the Scott Polar Research Institute on Tuesday 17 January 2012 for a series of lectures delivered by eminent personalities.
The Sovereign was greeted by the Director, Professor Julian Dowdeswell, before meeting Sir Ranulph Fiennes, Polar explorer and writer, who talked about the challenges to the Polar reaches.
The Prince also attended a presentation by the writer David Crane and Professor Max Jones of the University of Manchester.
HRH the Duke of Edinburgh and the Sovereign then participated in a gala dinner at Corpus Christi College with descendants of the adventurers Scott, Wilson and Bowers. The Prince was greeted by the President of the College, Richard McMahon.