Back to the list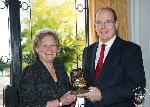 HSH Prince Albert II of Monaco awards The Prince's Prize for Innovative Philanthropy
Monaco
Monte Carlo, January 28, 2014 — The Prince's Prize for Innovative Philanthropy has been awarded to Clara Miller, CEO of The FB Heron Foundation. The FB Heron Foundation seeks to fund companies in the United States that create high-quality jobs for people working to escape poverty, while also promoting systemic economic changes to benefit low-income workers.
Ms Miller, who previously founded and directed the Nonprofit Finance Fund, a leading community development fund in the United States, has driven an innovative initiative to re-allocate the Heron Foundation's entire endowment capital so that it is invested only in projects that are aligned with the foundation's mission, thus amplifying the impact of its work.
Speaking at a private ceremony to a select audience of philanthropists, corporate leaders and opinion-shapers, Prince Albert told Ms Miller, "Over and above its tremendous achievements, the FB Heron Foundation, thanks in particular to Clara Miller, provides an unprecedented model of philanthropic commitment, which I believe is extremely promising, and which has already inspired other initiatives across the globe."
Prince Albert, who has long been involved in philanthropic work with his Prince Albert II of Monaco Foundation, added, "Philanthropy, as we all know, is at the heart of many of the challenges of our time. By turning the spotlight on an innovative initiative, this new award aims to draw attention to original and creative perspectives, all of which will help to build a better world. I hope that it will therefore contribute, in its own way, towards these fantastic efforts of reinvention."
Ms. Miller commented, "On behalf of Heron, I'm delighted and deeply honored to be a recipient of the Prince's Prize. As we are all painfully aware, the size and urgency of the problems we face require that philanthropy deploy all of its assets in concert with a muscular and diverse array of allies. We share this honor with the many people, from all sectors, who have worked alongside us toward achieving the goal of a sustainable world. This is a real boost to our shared vision."
The Prince's Prize for Innovative Philanthropy seeks to showcase particularly creative and effective philanthropic initiatives, at a time when philanthropy is becoming increasingly important to fighting injustice and poverty worldwide. Developed by the Prince Albert II of Monaco Foundation and the Tocqueville Foundation, the Prince's Prize is unusual in highlighting new and ingenious ways of giving money, and the often-neglected skill of effective giving.
The Prince's Prize results from HSH Prince Albert's close involvement in The Prince's Roundtable on Philanthropy. Now in its fourth year, this is an annual closed-door forum of leading international philanthropists.
XXXXXXXX
The Prince's Prize for Innovative Philanthropyis an initiative developed by the Prince Albert II of Monaco Foundation and The Tocqueville Foundation. Its goal is to highlight projects and initiatives that have triggered innovative activity in the field of philanthropy, seeking out individuals and organizations that inspire others. The Prince's Roundtable on Philanthropy, an annual closed-door forum of leading international philanthropists, takes place in Monaco every year following the annual World Economic Forum in Davos, and many of the Roundtable's members serve on the nominating and evaluating committee for the Prince's Prize.
The Prince Albert II of Monaco Foundation, created by HSH Prince Albert II of Monaco in 2006, addresses the alarming threats hanging over our planet's environment. The Prince Albert II of Monaco Foundation works for the protection of the environment and the promotion of sustainable development. The Foundation supports initiatives conducted by public and private organizations within the fields of research, technological innovation and activities to raise awareness of the social issues at stake. It funds projects in three main geographical regions: the Mediterranean Basin, the Polar Regions and the Least Developed Countries. The Foundation's efforts focus on three main sectors: Climate change and renewable energies, biodiversity, and integrated and sustainable water management together with the fight against desertification.
The Tocqueville Foundation is an international grant-making, prize-awarding and operating foundation registered in France under the auspices of the Institut de France. Its mission and vision are deeply rooted in Alexis de Tocqueville's social and political thought, and particularly his belief in the fundamental contribution of civil society to democratic and economic development. The Tocqueville Foundation fosters a dynamic civil society through learning, innovation and engagement. By promoting strategic philanthropy and social investing, building bridges across borders and generations, the Tocqueville Foundation promotes a well-developed and effective civil society where individuals, acting together, address common problems and build sustainable social equity for future generations.