Back to the list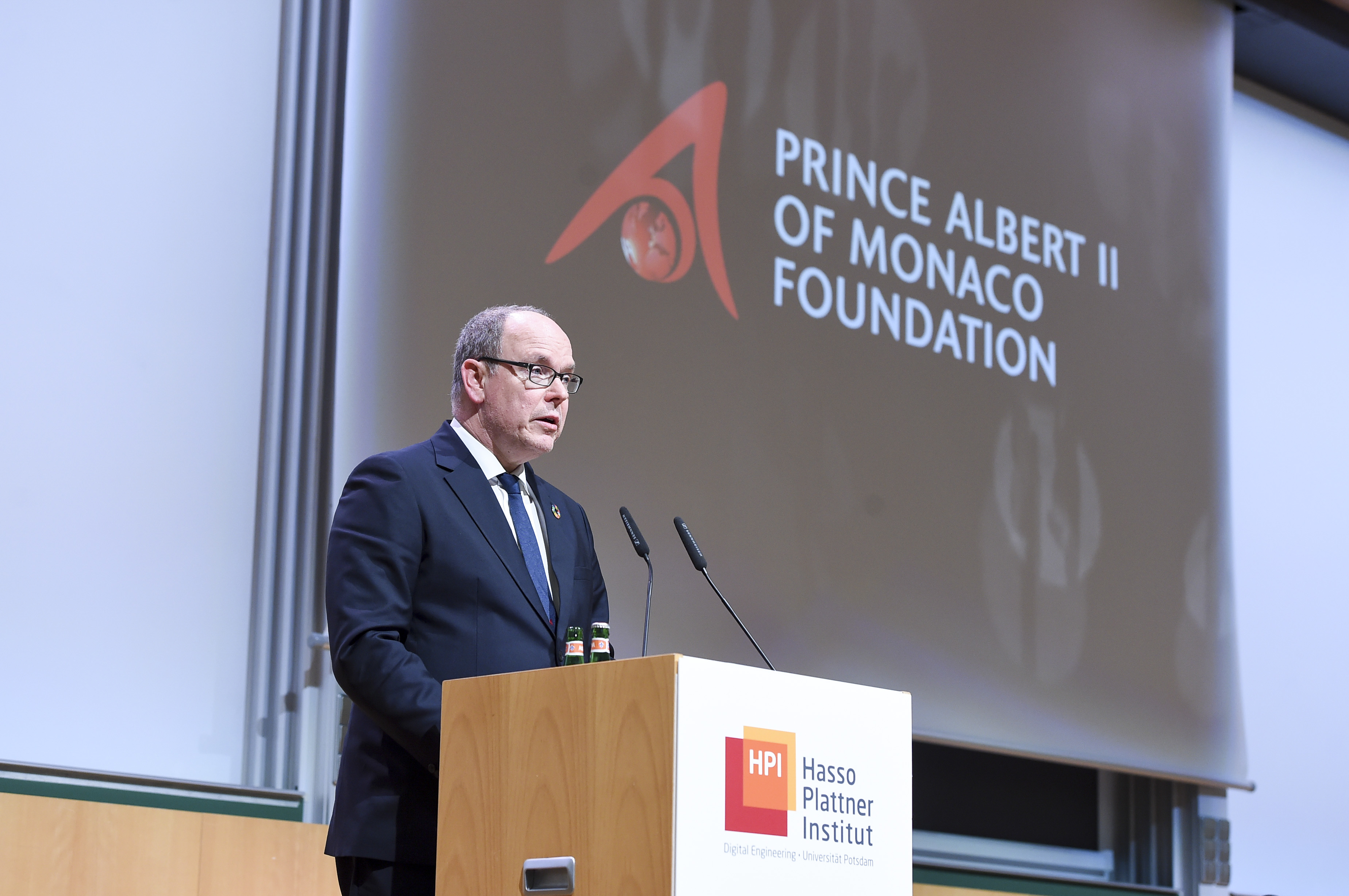 HSH Prince Albert II of Monaco celebrates the 10th anniversary of the German branch of His Foundation in Potsdam
Germany
The German branch of the Prince Albert II of Monaco Foundation, chaired by Dr Bernd Kunth, celebrated its 10th anniversary in the presence of the Sovereign Prince on December 4th in Potsdam. A conference was held at the prestigious Hasso Plattner Institute on "Climate change, a challenge for entrepreneurs and investors".
Professor Meinel, Director of the Institute, opened the conference by welcoming the Sovereign Prince and the Monegasque delegation, composed of H.E. Mr Bernard Fautrier, Special Advisor to the Prince, H.E. Ms Isabelle Berro-Amadeï Ambassador of Monaco to Germany, Ms Barbara Zumbaum, Consul of Monaco in Potsdam and Mr Olivier Wenden, Vice-President of the Prince Albert II Foundation of Monaco and Mr Alexander Liegl, Honorary Consul of Monaco in Munich and member of the German branch.
Speaking, H.S.H. Prince Albert II of Monaco expressed his appreciation for the work carried out by the German branch of his Foundation over the years, thanking Dr. Kunth for his involvement. He then referred to the global progress made in the environmental field in 10 years. Taking the example of renewable energies, the Sovereign pointed out that while solar and wind power production did not exceed 200 gigawatts in 2009, last year it reached 1 terrawatt. By combining other green energy sources such as hydroelectricity, world production is now even reaching 2 terrawatts.
From the Copenhagen Summit in 2009 to COP25 in Madrid at the beginning of December, a change in mentality is taking place as citizens and younger generations have taken up the climate issue. Companies have identified threats related to climate change and perceived new consumer demands for greater sustainability and ethics. Anchoring the necessary changes in our modes of transport, work, consumption and food requires the involvement of everyone but also a real appropriation of environmental issues by all economic actors. Concluding his speech by recalling that the cost of inaction would be much higher than the cost of action, the Sovereign thus invited entrepreneurs and investors to consider the opportunities related to this new green and blue growth.
Professor Ottmar Edenhofer, Economist and Director of the Potsdam Institute for Climate Impact Research (PIK), spoke before participating in a panel discussion moderated by Ms. Nina Ruge, alongside Prof. Ruge. Michael Otto, Chairman of the Supervisory Board of the Otto Group, Mrs Jessica Paffen, CSR of BayWa, Mr Carsten Quitter, Director of Investments of the Allianz Group and Mrs Cordula Ströher-Goldenbow, manager of a Family Office.
The 150 guests were then expected at the Barberini Museum, a palace rebuilt after the war and now home to a collection of impressionist and modern art. The reception was followed by a private visit to the beautiful exhibition dedicated to the painter Van Gogh. Finally, a Gala dinner gathered the guests around the Sovereign Prince to celebrate the anniversary of the German branch.