Back to the list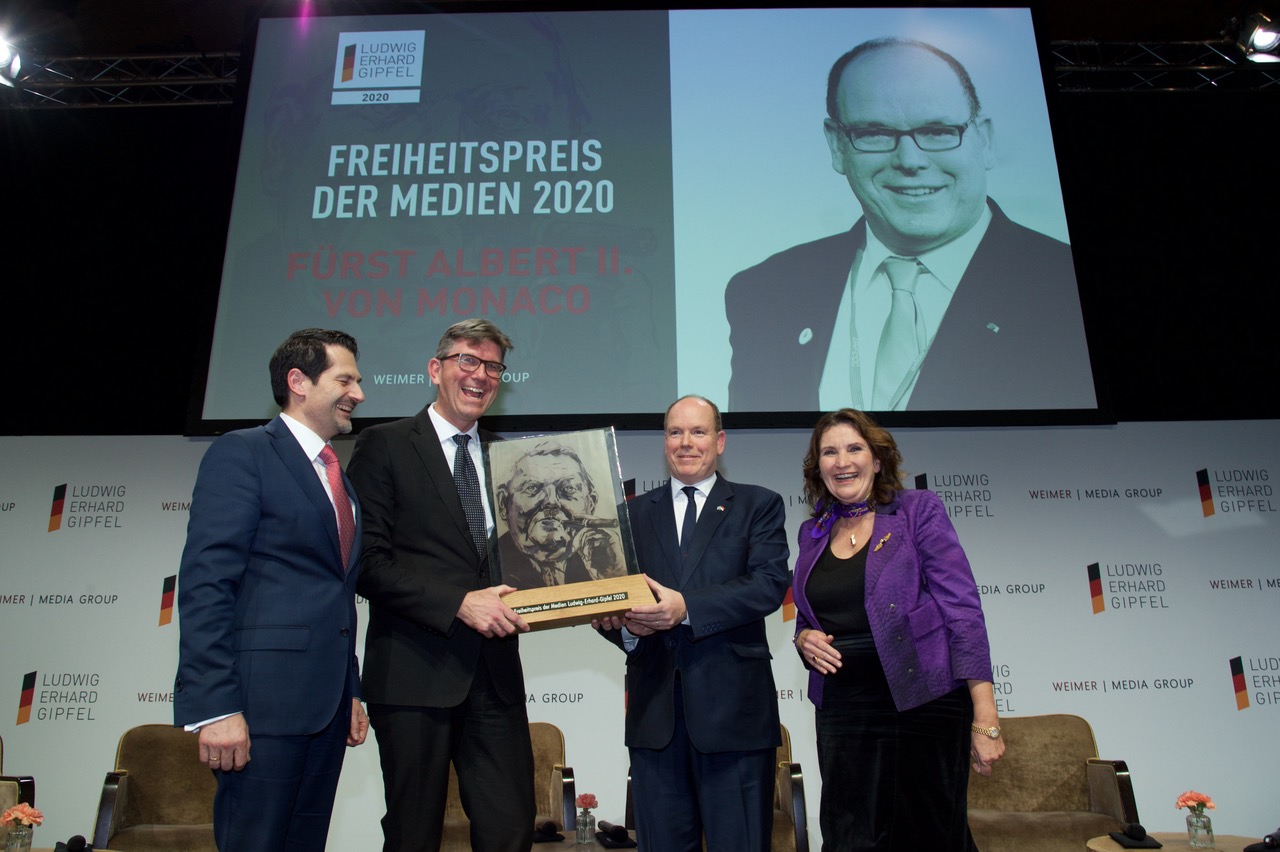 HSH Prince Albert II of Monaco honored with the « Press Freedom Prize » in Germany
Germany
On 17 January, HSH the Sovereign Prince attended the Ludwig Erhard Summit in Tegernsee, where he received the "Freiheitsprise der Medien" - Press Freedom Prize - in recognition of his commitment to environmental protection.
Organized by the Weimer Media Group (WMG), the event which honors public figures committed to freedom of expression decided for its sixth edition to salute and reward the Sovereign Prince for His decisive role in favor of Nature. Thomas F. Hofmann, Master of Ceremony and President of the Technical University of Munich emphasized in his speech: "More than any other head of state in recent years, Prince Albert II has committed himself to the preservation of nature."
This prize honors the work of the Sovereign Prince who has been working through his Foundation for many years « not only to fight against the worldwide pollution of the ocean, against global warming caused by industrial emissions and the global melting of the poles, but He continually directs our focus to protecting biodiversity, promoting renewable energies and advocating a global water supply. The Prince Albert II of Monaco Foundation, which He established in 2006, is regarded worldwide as a flagship project for environmental protection » Thomas F. Hofmann declared before concluding « These numerous initiatives and achievements have made You today a respected international figure in the fight to protect the environment »
In His speech, HSH Prince Albert II of Monaco, accepting the award with gratitude, evoked the close link between the protection of our Planet and the freedom of the press, stressing that « the need for truth is indeed at the heart of the environmental struggle. A truth which is foremost scientific» and which must reach us although it often disturbs by the needs for change it highlights. « That is why the freedom to inform, in the environmental field, is a necessity, which can also be a fight. A fight which is built on this freedom of the media, but which must also engage each one of us. » underlined the Sovereign Prince, at a time when the international community is still too divided in the face of the climate crisis.