Back to the list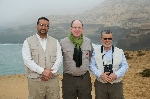 HSH Prince Albert II of Monaco visits the Souss Massa Park in Morocco for the protection of the Bald Ibis
Monaco
HSH Prince Albert II of Monaco, accompanied by Bertrand Piccard, member of his Foundation's Scientific and Technical Committee, travelled to the Souss Massa Park in south Agadir on Friday 7th March to visit the site which is home to the last colony of bald ibises in the world.
For 4 years, the Prince Albert II of Monaco Foundation has supported the action implemented by BirdLife International, through its Spanish partner, SEO/BirdLife, and, following its membership of the international network, the Moroccan NGO, GREPOM, to consolidate the population of this species, classified as critically endangered by the IUCN.
During the visit, the Sovereign Prince and Bertrand Piccard had the opportunity of talking to local players regarding the bald ibis issue and the efforts made within the framework of this project to protect this emblematic species. The Prince was presented with a trophy by GREPOM in honour of his visit.
The bald ibis, also known as the hermit ibis, lives in colonies on semi-arid rock walls and coastal cliffs. A wader, it measures 80 cm high and has a wing span of 120 to 130 cm. As its name implies, it has a bald head with blue-black plumage and a long curved red bill. It feeds on lizards, insects and small animals.
In the past, the bald ibis was widespread in the Middle East, North Africa and Southern Europe. In Egypt, it symbolised splendour for the contemporaries of the pharaohs who often depicted it in their hieroglyphics. It has since been decimated by human activity. Saving this species from extinction had therefore become a matter of urgency.
This year field operators have seen their efforts rewarded with a successful mating season.
148 chicks took flight in 2013. Since 1996, the population has virtually doubled. Today, it is estimated that there are 113 breeding pairs.
This project is on its way to becoming a new success story for the Prince Albert II of Monaco Foundation with the protection of a new species. It also represents a great opportunity for the Souss Massa national park, whose emblem is the bald ibis, to develop ecotourism in the Agadir region.
Consequently, this project is the perfect example of a successful biodiversity protection initiative which has a positive impact on the local populations and the economic development of a region that was extremely isolated until now.