Back to the list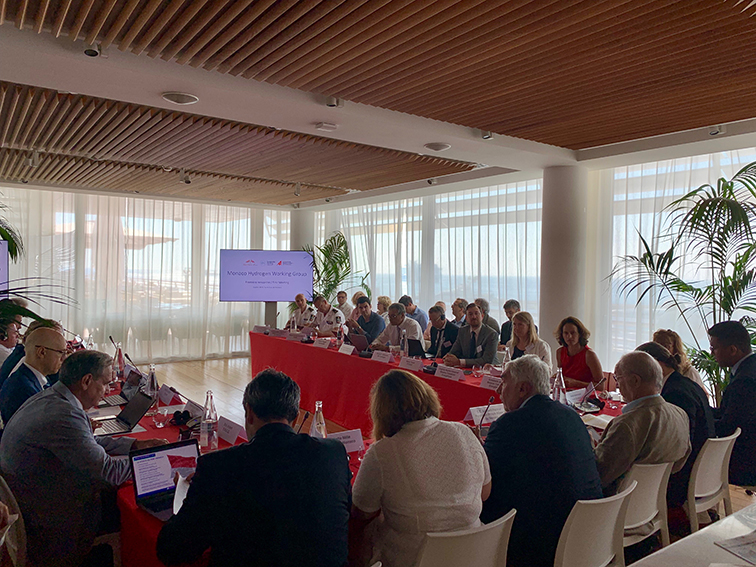 Hydrogen takes centre stage on first day of Monaco Solar and Energy Boat Challenge
Monaco
The Monaco Solar & Energy Boat Challenge (2-6 July 2019) opened with a round table co-organised by the Yacht Club de Monaco and Prince Albert II of Monaco Foundation on hydrogen, a clean energy at the start of its exploitation. Held under the aegis of the Sustainable Yachting Network, the purpose was to bring Monegasque government and institutions together with key players in the hydrogen technology sector to explore the potential for a hydrogen production plant in the Principality.
"We are at a pivotal point in the use of hydrogen," commented H.E. Mr Bernard Fautrier, Vice-President of the Prince Albert II Foundation, as he opened the round table.
Hydrogen is seen by many to be an ideal clean energy source with no pollution for the environment. Around the world momentum is gathering to develop this resource, with many nations including the Scandinavian countries and Japan, orienting development of technologies to exploit this source to meet the environmental and energy challenges of our century. It was in this context to coincide with the Solar & Energy Boat Challenge that the Monaco Hydrogen Working Group emerged. A humble molecule, which is the most abundant chemical element in the universe, was therefore at the heart of discussions to define the possibilities; identify the limitations and opportunities of hydrogen facilities; understand the Monegasque context; and gain an overview of technologies that currently exist in the market or are being developed.
"It is essential to bring the various players together around hydrogen, as it is no longer a utopia but a reality," said YCM General Secretary, Bernard d'Alessandri.
Given Monaco's energy transition policy to be carbon neutral by 2050, hydrogen represents an attractive sustainable alternative. The Principality already proposes solutions using hydrogen, notably for transport, and supports projects like the vessel Energy Observer that has proved hydrogen has real potential. (To take what the team on this vessel has developed further, Energy Observer Developments will hold a press conference on 4th July at the Yacht Club de Monaco.)
What became clear at this round table was the importance of having control of the whole hydrogen chain, from production, storage and regulations through to its exploitation.
The meeting was held under the aegis of the Sustainable Yachting Network (SYN), an initiative coordinated by the Prince Albert II of Monaco Foundation in partnership with the Yacht Club de Monaco, Monaco Yacht Show, Cluster Yachting Monaco and Secretariat of the RAMOGE Agreement. Its mission is to gather those involved in the yachting sector from around the world around eco-responsibility and sustainable development themes to promote and encourage best practices and innovative solutions.