Back to the list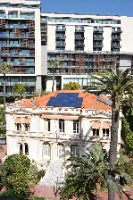 Inauguration of the photovoltaic solar power unit installed on the roof of Villa Girasole
Monaco
On 8thApril, H.S.H. the Sovereign Prince inaugurated the photovoltaic solar power unit recently installed on the roof of Villa Girasole, the building that houses the Prince Albert II of Monaco Foundation. He was accompanied by Ms Marie-Pierre Gramaglia, the Minister responsible for Facilities, the Environment and Urban Planning.
Covering an area of 60 m², and spread over the South, East and West sections of the Villa, the 36 photovoltaic solar panels offer maximum efficiency in terms of energy performance, in particular thanks to the use of polycrystalline materials. This technology will enable approximately 10,000 kWh to be produced each year. The 1,200 m² Villa houses offices occupying a staff of twenty-five. Approximately 10% of its energy requirements will therefore be met.
This initiative illustrates the Principality's determination to develop the use of renewable energies, especially by adapting its public buildings, with the goal of achieving carbon neutrality by the middle of the century.
It complements an ambitious policy to improve energy efficiency, in particular in existing buildings. As such, Villa Girasole's consumption dropped from 84 to 49 kWh/ m² between 2005 and 2010, placing this older building in the high energy efficiency category.
This action is also in line with the Prince Albert II of Monaco Foundation's efforts to combat climate change through the development of energy efficiency and renewable energies.