Back to the list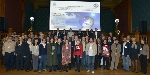 International workshops bridging the gap between ocean acidification impacts and economic valuation at the Oceanographic Museum of Monaco from 11 to 13 November 2012
Monaco
Although many uncertainties remain, ocean acidification will have important effects on marine ecosystems and coastal economies world-wide. The best available scientific information on ocean acidification must be used by stake holders to make decisions aimed at improving human society and the deteriorated condition of the ocean environment. Without the reversal of the source of the physical phenomenon, namely anthropogenic CO2 emissions, societal impacts of ocean acidification will require adaptation and forward planning in the ways living ocean resources are harvested and used.
In response to recommendations of several policy briefs, including the Monaco Declaration [LINK] signed by 155 scientists in 2009, an effort to bridge the gap between ocean acidification impacts and economic valuation was jointly initiated in 2010 by the Agency and the Centre Scientifique de Monaco in cooperation with the Prince Albert II of Monaco Foundation, the Principality of Monaco, the Monaco Ministry of State, the Oceanographic Museum of Monaco, the Monegasque Society of Water, the Monaco Tourism Office, the French Ministry of Ecology, Sustainable Development, and Energy, the International Union for the Conservation of Nature, the State Department of the United States of America, and the European Commission's Joint Research Centre in Ispra, Italy. A first international workshop, organized in November 2010, provided an opening venue for natural scientists and economists to introduce their perspectives on the topic of ocean acidification and to build solid linkages between these two communities. The outputs of the meeting were a baseline of scientific and economic information, integration of the language and concepts of dissimilar research methodologies, and publication of conclusions and recommendations concerning the anticipated impacts of ocean acidification on ecosystems and ecosystem services.
A follow-up workshop took place the 11-13 November 2012 and aimed at providing policymakers with recommendations to prepare for social and economic impacts of ocean acidification on livelihoods, trade and food supply from ocean resources. The focus of this second workshop was on fisheries and aquaculture, and regional aspects of species vulnerability and socio-economic adaptation. The workshop brought together more than 55 natural and economic scientists in an attempt to provide policymakers with recommendations of regional priorities in fisheries and aquaculture. The workshop was introduced by talks on four main topics:
1- ocean acidification status of knowledge
2- anticipated biological and ecological effects
3- status of fisheries and aquaculture and anticipated changes
4- economic impacts and human adaptation measures in fisheries and aquaculture
The goal was to identify potential economic impacts and summarize information to assist policy-makers, resource managers and communities in developing decision pathways in response to ocean acidification. Results of the meeting are expected to give rise to a sponsored special report published by IUCN of regional aspects of ocean fisheries and the possible impacts of ocean acidification on coastal ecology and human economy. Brochures specifically targeting policy makers and the general public are also foreseen.
Link to web sites for previous workshop:
http://www.centrescientifique.mc/csmfr/informations/2010_11_workshop_2012.php