Back to the list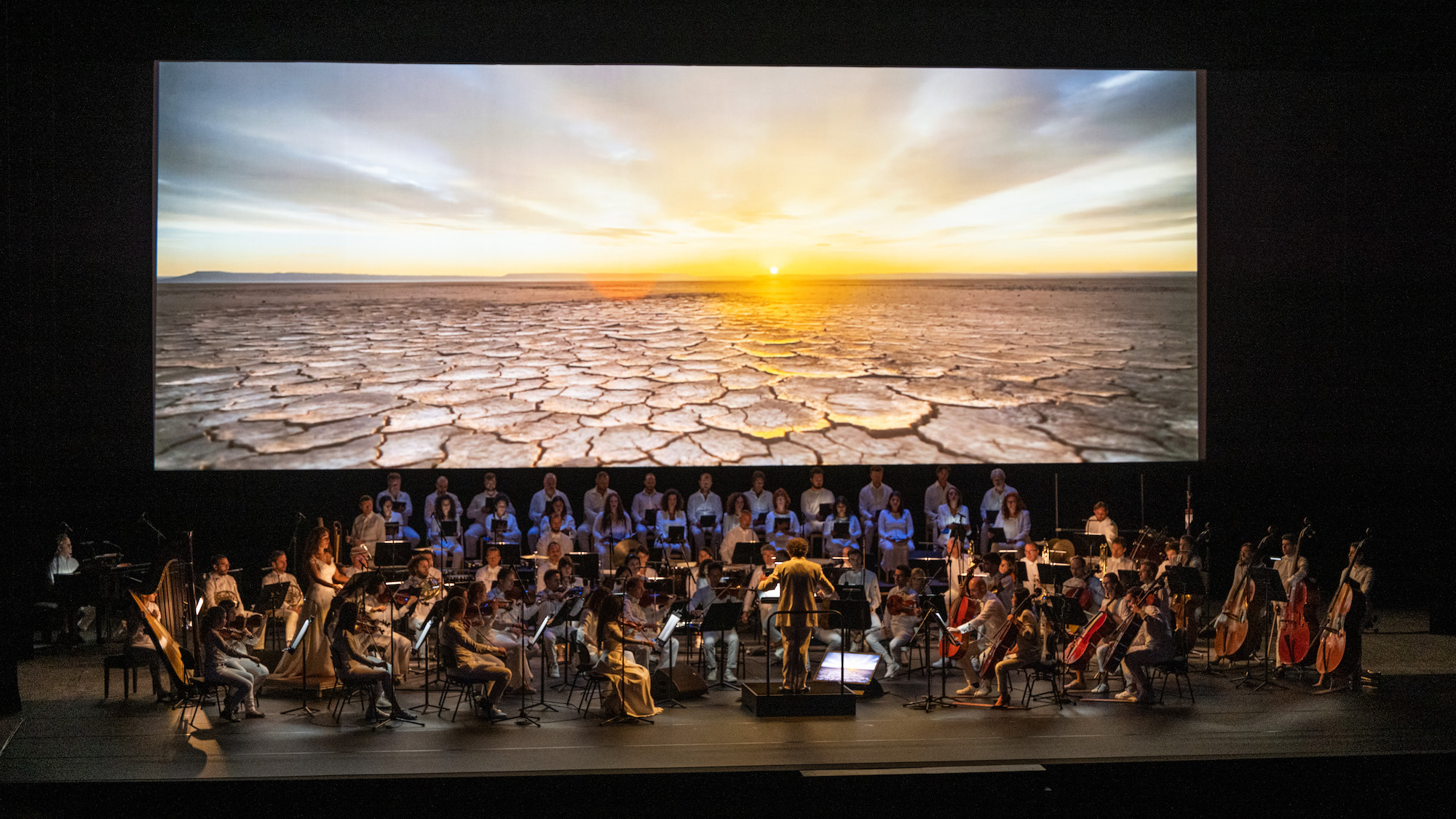 Interview with Sibylle Szaggars Redford, Founder and Artistic Director of The Way of The Rain
Monaco
Events
Article
The Prince Albert II of Monaco Foundation was pleased to present the environmental performance "The Way of the Rain - Hope for Earth", conceived and directed by Sibylle Szaggars Redford, in collaboration with composer Tim Janis and Floyd Thomas McBee for film research and editing, with the exceptional participation of Robert Redford, at the close of its 2021 awards ceremony.
On this occasion, Sibylle Szaggars Redford and her collaborators took part in an exclusive interview about the performance and what inspires them.
Mrs Szaggars Redford, you are the Founder, President, and Art director of The Way of the Rain, can you tell us what inspired you to create the show? How did the collaboration with Tim Janis, composer, and Thomas McBee, video artist and editor, shape The Way of the Rain – Hope for Earth?
Nature always has been my inspiration as an Artist. Having moved to the High Desert in New Mexico 12 years ago, I was mesmerized by the annual monsoon rains during the summer months and my instinct told me to use the rain as a collaborator within my art.

I then started a small video which recorded my process of applying watercolor on dry paper, and then waiting for the monsoon rains to fall and transform the work into an organic piece of art. It was an interesting way for me to illustrate the importance of desert rainfall and the necessity of all of Earth's resources in keeping environments and communities alive.

Having been an environmental artist for decades, I felt I needed a stronger voice to create awareness and open up consciousness. It was then that I decided to create a staged, live and moving painting through the addition of other art forms, like music, sound, light, dance, film, and spoken word. This underlined my concern for our planet and in collaboration with my rain painting process I envisioned "The Way of the Rain."

I met Thomas in 2010 and he was right there with me from the beginning. We explored the filming of the process of my rain art together and started to exhibit my rain paintings together with the rain videos. The first music to the rain videos was composed by Icelandic Composer David Thor Jonsson, who enhanced the art films with his composition.

Thomas and I were introduced to the composer Tim Janis in 2016. Tim had explored our work, which by then we already had created diverse staged productions with various other composers, choreographers and soloists in collaboration.

Tim invited us to create an 'epic' version of The Way of the Rain with him for the Stern Auditorium/Perelman Stage at Carnegie Hall in New York City. The three of us spent the entire spring and summer of 2017 together and created in collaboration 'Voices of Hope' which was presented at Carnegie Hall in December of 2017.

We inspired each other in ways we had not experienced before, and after our Carnegie Hall performance I asked Tim if he would be interested in composing a Symphony for classical Ballet. He did and in August of 2019, we presented "The Way of the Rain - Earth Movements" in collaboration with the Utah Symphony and Ballet West at Eccles Theater in Salt Lake City, Utah.

The music and concept for "Hope for Earth" reflects the storyline of that Ballet.
Art is an incredible form of communication and is often more relatable and understandable to the greater public, how do you think we can encourage more Art dedicated to the environment, such as yours?
Art is definitely a strong form of communication and can inspire and open up the viewers' consciousness through their experience. I hope that The Way of the Rain performances, its message and impact will become a vehicle for other artists to create works of importance to speak out for our Earth.
In your opinion, can art help save the Planet?
Art is a very important pathway and art has the power to make a difference.
Would you have a special message to share about how we can act and change the world?
A rapid departure from Fossil Fuel consumption has to happen for the sake of Earth, its Oceans, Rainforests, the sake of Earth's Biodiversity, its Ecosystems, and Humanity! I urge each one of us to take the time immediately and research of how we can contribute to a sustainable future for us all.
Mr. Janis, how do you integrate the environment in your music?
I integrate the environment into my music by spending much of my time in nature. In the mountains, by the sea, a desert or forest. These inspiring, rejuvenating spaces create the emotion that goes into the music.

Being a part of Mrs Szaggars vision, The Way of the Rain, has been such an honor and way for me to honor our beautiful Mother Earth which is so very important to me.
Mr. McBee, how do you integrate the environment in your films and projections?
For myself, Nature has been a sensory language supremely understood by my heart. Even the briefest moment of outdoor solitude is enough to suspend me between an enlivening sensory experience and a deep repose of soul; a tantalizing balance between stimulated nerves and soothing material rhythms as old as time. We live in an age when fear and negativity are often the excessively utilized prods for moving people to action. The simple reminder of natural beauty, order, and our relationship to them stands out uniquely against the noisome backdrop. Individuals readily find fresh fountains for extraordinary action when the heart-mind-soul realizes some new height of inspiration. Our Earth is a surprising garden, a singular ark of dizzying variety unlike anything discovered in the starry heavens, a whirling speck of incredible life where new heights of inspiration continuously unfold and present themselves for personal assimilation. It is my hope that in highlighting the beauty, harmony, creativity, and wonder of our natural world through film and projection that the most capable and subtle parts of the individual heart would stir in spirited answer; to find a joyous fulfilment in the noble pursuit of responsible and personal stewardship.