Back to the list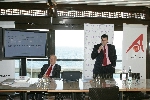 Johnson Controls and The Prince Albert II of Monaco Foundation announce creation of an Energy Efficiency and Climate Change Forum in Monaco
Monaco
MONACO (Oct. 9, 2009) – Johnson Controls, Inc. (NYSE:JCI), a global multi-industrial leader in providing energy efficient building solutions, and The Prince Albert II of Monaco Foundation, a leading global environmental foundation, today announced the creation of an Europe and Mediterranean Energy Efficiency & Climate Change Forum. The event will be hosted in Monaco in April of 2010 and will focus on a range of energy efficiency and policy issues with the goal of elevating awareness and accelerating action on implementing energy efficiency programs to slow climate change.
"There can be no debate that climate change is a critical issue that requires immediate action. Energy efficiency provides one of the most immediate ways we can impact climate change. We estimate in buildings alone energy usage could be reduced 20 – 30% by using technologies currently available to run them more efficiently. More broadly applied efficiency can have an even bigger impact on energy usage and carbon emissions. The size of the opportunity and immediacy with which it could be addressed should create a sense of urgency. We will use the Forum to help drive understanding and the formulation of policy that encourages rapid action," said David Myers, President of Johnson Controls Building Efficiency business.
"The event will provide a unique opportunity to bring leading experts, policy makers and end users together to move more quickly from debate to action around energy efficiency and climate change," stated H.E. Bernard Fautrier, Vice President and Chief Executive Officer of The Prince Albert II of Monaco Foundation. "The outcome of the Copenhagen Conference will be a major focus of our first Forum in April 2010."
The event will be driven by an executive council of leading experts and policy makers who will establish the content and format to assure the content each year is relevant and tightly focused on removing barriers to the rapid implementation of energy efficiency programs across Europe and the Mediterranean basin. The event will be targeted toward thought and policy leaders as well as building owners and will focus on the most relevant and immediately important topics as defined by the Executive Council.
"The forum represents the first outcome of the strategic alliance the two organizations formed earlier in 2009 and will set the tone for further initiatives from the alliance to educate and influence governments, businesses and individuals to think and act on energy efficiency and climate change", H.E. Bernard Fautrier and Mr. Myers said.
About Johnson Controls
Johnson Controls (NYSE: JCI) is the global leader that brings ingenuity to the places where people live, work and travel. By integrating technologies, products and services, we create smart environments that redefine the relationships between people and their surroundings. Our team of 140,000 employees creates a more comfortable, safe and sustainable world through our products and services for more than 200 million vehicles, 12 million homes and one million commercial buildings. Our commitment to sustainability drives our environmental stewardship, good corporate citizenship in our workplaces and communities, and the products and services we provide to customers. For additional information, please visit
http://www.johnsoncontrols.com
.