Back to the list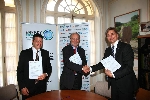 Johnson Controls, Prince Albert II of Monaco Foundation, The Climate Group To Host Third Annual Euro-Mediterranean Energy Efficiency Forum
Monaco
MONACO – (22 March, 2012) – Johnson Controls, the Prince Albert II of Monaco Foundation and The Climate Group will partner for a third year to host the Euro-Mediterranean Energy Efficiency Forum. The event, which will be held in Monaco on 8 and 9 November 2012, gathers policy and decision makers to promote action on the adoption of legislation designed to curb climate change.
This year's theme will focus on the opportunities of an energy efficient economy, covering three key areas: policy, market demand and investments.
An official signing of the Memorandum of Understanding between the parties took place today at the International Conference & Exhibition on Ecologic Vehicles & Renewable Energies (EVER) 2012 at the Grimaldi Forum in Monaco.
"European leaders are pursuing ambitious energy efficiency goals that are setting the standard for other countries around the world," said Richard van Bergen, vice president and general manager, Energy Solutions Europe and Africa, Johnson Controls. "Our event this year will highlight the positive economic aspects of investments in energy efficiency."
As HE Mr Bernard Fautrier, Vice-president and Chief Executive Officer of the Prince Albert II of Monaco Foundation, highlighted: "The Principality welcomes the third edition of the Euro-Mediterranean Energy Efficiency Forum. Now, more than ever, energy efficiency offers a very powerful and cost-effective tool for achieving a sustainable energy future. From 5 till 9 November 2012, Monaco will host the World Energy Council Executive Assembly and the Euro-Mediterranean Energy Efficiency Forum, offering inspiring energy efficiency discussions.
Mark Kenber, CEO, The Climate Group, said: "Energy efficiency solutions are clearly still the most cost and time effective element of a necessary Clean Revolution. One of the major challenges to unlock its full potential are appropriate financing instruments. Those are already being developed and implemented around the world but need to be further fine tuned and scaled up rapidly. I welcome the focus on financing at this year's EEF as an essential contribution to accelerate this process."
Nominations are now being accepted for the Energy Efficiency Innovator Awards program, which was launched in 2011. Awards will be presented in up to six categories: Policy, Finance, Technology, Projects, Communication, and Business and will recognize significant actions in the energy efficiency area. Nomination forms are available on https://www.ee-forum.eu/awards/index.html.
Honorees will be chosen by members of the Executive Council. Recipients will be notified prior to the Forum, as recipient attendance at the Forum is required.
The inaugural EEF took place in April 2010 and was opened by His Serene Highness Prince Albert II of Monaco. The Euro-Mediterranean event is modeled on a well respected Energy Efficiency Forum held annually in the U.S. since 1990 and co-sponsored by Johnson Controls.
For more information on the 2010 and 2011 EEF, visit: www.ee-forum.eu.
About Johnson Controls
Johnson Controls is a global diversified technology and industrial leader serving customers in more than 150 countries. The company's 162,000 employees create quality products, services and solutions to optimize energy and operational efficiencies of buildings; lead-acid automotive batteries and advanced batteries for hybrid and electric vehicles; and interior systems for automobiles. Johnson Controls' commitment to sustainability dates back to its roots in 1885, with the invention of the first electric room thermostat. Through its growth strategies and by increasing market share, Johnson Controls is committed to delivering value to shareholders and making its customers successful. In 2011, Corporate Responsibility Magazine recognized Johnson Controls as the #1 company in its annual "100 Best Corporate Citizens" list. For additional information, please visit http://www.johnsoncontrols.com.
About Prince Albert II of Monaco Foundation
The Prince Albert II of Monaco Foundation was created by H.S.H. the Sovereign Prince in June 2006 and is dedicated to the protection of the environment and the promotion of sustainable development on a global scale. The Foundation's efforts focus on three main areas: Climate Change and Renewable Energies, Biodiversity, Water and Desertification. The Foundation gives its support to projects in three main geographical zones: the Mediterranean Basin, the Polar Regions, and the least developed countries. The Foundation supports initiatives by public and private organizations, in the fields of research and studies, technological innovation and socially-aware practices. To learn more: www.fpa2.com
About The Climate Group
The Climate Group (www.theclimategroup.org) is an independent, not-for-profit organization working internationally with government and business leaders to advance smart policies and technologies to cut global emissions and accelerate a clean industrial revolution. We are the world's most influential global coalition of major businesses, cities, states and regions that recognize the economic and environmental imperatives of taking decisive action now. The Climate Group was founded in 2004 and has operations in Australia, China, Europe, India and North America.