Back to the list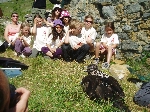 Latest news on the two Bearded Vultures released in Vignols on 5th June 2009
Monaco
Vaulabelle and Condamine, the two female bearded vultures released in Vignols on 5th June in the heart of the Mercantour by H.S.H. Prince Albert II and Ms Chantal Jouanno, the French Secretary of State for Ecology, are making steady progress towards their life in the wild.
On 25th June at 1.30 p.m., Condamine, 116 days old, made her first flight which lasted around ten seconds.
After 24 days spent in the cave, Vaulabelle, 125 days old, flew for the first time at 9.30 a.m. on 29th June. After a 23-second flight, she landed on the river bed where she immediately had a bath. She spent the rest of the day tending to her plumage and exploring the immediate vicinity of the cave on foot.
On 7th July 2009, after 12 days of flying for Condamine and 7 days for Vaulabelle, the birds began to fly for increasingly longer periods, often over a minute long.
Vaulabelle and Condamine are now feeding themselves from feeding stations on a crest which are placed further and further away. These will be replenished by technicians from the Parc du Mercantour, until the birds become completely self-sufficient.
Our two bearded vultures are inseparable: they sleep, fly and feed together. Progress as far as the quality of their nocturnal perch is concerned shows that their development and first experience of life in the wild are on the right track.
They are now expected to disappear more and more frequently as they explore the neighbouring valleys. Monitoring will become more intermittent but this will only go to prove that they are adapting well to their new environment.