Back to the list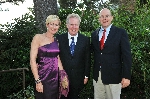 Meeting of the Climate Group's International Leadership Council in the Principality
Monaco
On 26th July 2010, in the presence of H.S.H. Prince Albert II of Monaco and other international key figures including Mr Jean Charest, the Prime Minister of Quebec, a working session was held by the Climate Group's International Leadership Council.
The Climate Group is an organisation whose mission is to foster global action to combat climate change by involving the population, governments and economic players. Its goal is to advance smart policies and technologies aimed at reducing global emissions and speeding up the establishment of a low carbon economy.
As part of the activities it carries out in the field of climate change, the Prince Albert II of Monaco Foundation signed a Memorandum of Understanding on 15th December 2009 with the Climate Group at the Climate Leaders' Summit, an event during which H.S.H. the Sovereign Prince officially launched the EV20. The goal of this initiative, presided over by H.S.H. Prince Albert II of Monaco, is to bring together the major players in the electric vehicle network to focus on activities over the next three years aimed at speeding up the transformation of the automotive industry by 2020.
As such, the two organisations held the first EV20 working group meeting on 3rd May 2010 at the Shanghai World Expo, a meeting aimed, among other things, at exploring China's potential contribution towards the development of electric vehicles.
On the day prior to the International Leadership Council's meeting, the participants were invited by H.S.H. the Sovereign Prince to a reception in the Palace Gardens. On this occasion, the Citroën Berlingo "Powered by Venturi", an electric vehicle developed by the Monaco-based firm, which successfully completed a journey of 13,400 kms from Shanghai to Paris, was presented to the participants.