Back to the list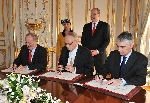 Memorandum of Understanding signed between the Prince Albert II of Monaco Foundation, the Monegasque Cooperation and the Agence Française de Développement
Monaco
On 2nd April, in the presence of H.S.H. the Sovereign Prince, a Memorandum of Understanding was signed between the Prince Albert II of Monaco Foundation, the Government of Monaco and the Agence Française de Développement.

The Agence Française de Développement (AFD) is the central figure in France's official development assistance system. It takes action in over sixty countries in Africa, the Pacific, Asia, the Caribbean, the Indian Ocean, the Mediterranean and Eastern Europe, as well as in the French Overseas Territories. It boasts a network of sixty-three agencies and offices worldwide.
The Agency provides funding for projects in various sectors of the economy, as well as in health, education and the environment. The aim of these projects is to improve the living conditions of the populations on a long-term basis, by developing infrastructure and promoting employment by setting up or developing businesses.
It also aims to strengthen its strategic and financial partnerships with national, European and international players.
The Memorandum of Understanding was signed on 2nd April by Mr Jean-Michel Severino, Director General of the AFD, H.E. Mr Franck Biancheri, Government Counsellor for External Relations and for International Economic and Financial Affairs and H.E. Mr Bernard Fautrier, Vice-President and Chief Executive Officer of the Prince Albert II of Monaco Foundation.

The goals of this new partnership are multifold:
· to identify projects that could be co-funded in areas and regions of mutual interest;
· to develop technical, scientific and methodological cooperation to pool and benefit from specific expertise and experience regarding project monitoring and assessment;
· to exchange and disseminate experiences through the organisation of round table sessions and the creation of communications material;
· to enable executives from the Monegasque Cooperation and the Foundation to take part in training courses.
The Prince Albert II of Monaco Foundation is already working together with the AFD and the MAVA Foundation on a project for an ecosystem profile of the Mediterranean region, representing the first phase of an initiative aimed at conducting an in-depth study of the region's biodiversity, which is considered a "hotspot".

Agence Française de Développement (AFD)
A public institution, the Agence Française de Développement (AFD) has been striving for over sixty years to combat poverty and to promote development in the Southern countries and the French Overseas Territories. It implements the development policy defined by the French Government.
Active in the field in over 50 countries, the AFD funds and supports projects that improve the living conditions of the populations, support economic growth and protect the planet: education of children, support for farmers and small businesses, water supply, preservation of the tropical forest, combating global warming....
In 2009, the Agency committed over 6.2 billion Euros for funding action in the Southern countries and in aid of the French Overseas Territories. This funding concerned in particular the inoculation of 1.8 million children, improvements to the drinking water supply for 7.3 million people and support for 900,000 jobs in the productive sector. Energy efficiency projects conducted during the same year will enable close to 5 million tons of CO2 to be saved every year.
www.afd.fr

Department of External Relations
Office of International Cooperation (+377 98 98 44 88)
The fight against poverty is an intervention priority for the Monegasque Cooperation. Development cooperation policy is focused on 4 main intervention areas: healthcare and social issues, education and training, support for micro-economic activities and the preservation and development of natural resources. In 2010, over 100 projects will be set up in 23 partner countries.
www.cooperation-monaco.gouv.mc

Prince Albert II of Monaco Foundation (+377 98 98 44 44)
The Prince Albert II of Monaco Foundation works for environmental protection and the promotion of sustainable development on a global scale. The Foundation's activities are focused on three main areas: climate change and renewable energies, biodiversity, water and desertification. The Foundation supports projects in three main geographical regions: the Mediterranean Basin, the Polar Regions and the least developed countries. The Prince Albert II of Monaco Foundation supports initiatives by organisations and public and private companies in the fields of research, technological innovation and raising awareness of the social issues at stake.
www.fpa2.com