Back to the list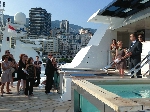 Monaco makes a commitment against deforestation
Monaco
As part of the initiative "Monaco makes a commitment against deforestation", the Prince Albert II of Monaco Foundation, in cooperation with the Tourist and Convention Authority, organised a cocktail evening on July 17th, bringing together Monaco's top hoteliers to present to them the "Wood Charter".
The event was held aboard the Stella Maris, a 72 m superyacht, the latest vessel from the Viareggio SuperYachts-VSY shipyard, first European signatory of the "Wood Forever Pact".
The Prince Albert II Foundation supports several field projects to combat deforestation in the world's major forested areas.
To achieve this same goal, it is necessary and logical that Monegasque consumers also be ethical by adopting responsible practices with regard to the purchase of timber products.
Reflecting the superyacht builders, who are the standard bearer of the yachting industry, Monaco's hoteliers are the one of the tourist industry.
While the "Wood Forever Pact" applies to the yachting sector, the "Wood Charter" is geared towards Monegasque companies (including hotels) and public services that wish to become involved in this exemplary approach.
Two weeks ago, the Monaco City Council signed the "Wood Charter". On July 17th, the Tourist and Convention Authority decided to set an example to hotel directors and their green teams on board the Stella Maris, by making this same commitment.
During the evening, guests had the opportunity of talking to the Prince Albert II Foundation and showing their willingness to take part in the action to combat deforestation. The contacts made already point to the excellence that Monaco can hope to achieve in this field.