Back to the list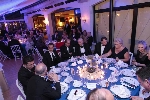 Monaco Private Label
Monaco
Seventy or so Monaco Private Label cardholders from Turkey, Mexico, New Zealand, Belgium, Russia, Latvia, Greece, China, the Czech Republic and the United States met in Monaco on 21 March 2014. First of all, they attended a lunch for the first Monaco Private Label Economic Forum, held at the Hermitage Hotel, with H.E. the Minister of State. The Minister of Finance and Economy, Jean Castellini, shared a vision of Monaco in the global economic context and presented the many advantages and special measures for investors in Monaco.
This was followed later on by a charity gala dinner at the Yacht Club of Monaco, in the presence of H.S.H. the Sovereign Prince, in aid of the Prince Albert II of Monaco Foundation. H.E. Mr. Bernard Fautrier, Vice-President and Guillaume Sainteny, Scientific Expert, explained the Foundation's role, activities and main aims to the guests.
The three-day programme, created by Michel Bouquier, Technical Advisor at the Ministry of Finance and Economy, included a mini-cruise on a hybrid superyacht, concerts at the Monaco Spring Arts Festival ("Printemps des Arts"), the Monaco-Lille football match and a personalised welcome at the Casino.