Back to the list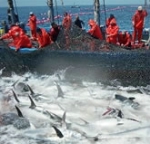 Monaco takes a stand for the protection of the Bluefin Tuna in the Mediterranean
Monaco
During the Seafood Summit in Barcelona from 27th to 30th January 2008, the World Wildlife Fund (WWF) called on retailers to boycott the bluefin tuna.

The bluefin tuna population in the Mediterranean is on the verge of collapse. A victim of its own success, the bluefin tuna is extremely popular, particularly in Asian countries, where large quantities of Sushi are consumed. Scientists from ICCAT (International Commission for the Conservation of Atlantic Tunas) had recommended that in order to ensure the species' survival, the annual fish quotas be fixed at 15 000 tons, yet in the management plan adopted later this was set at 32 400 tons with an estimated 50 000 tons being caught in 2007.

In the light of these shocking facts, the WWF has urged all retailers to follow the example of Auchan in France, Carrefour in Italy and the Coop in Italy and Switzerland, which have stopped selling all bluefin tuna until a policy for sustainable fishing that does not endanger the survival of the species is implemented.

At the beginning of January, the Prince Albert II of Monaco Foundation, as part of its partnership with the WWF, signed an agreement to implement a large-scale project to protect the bluefin tuna. The project is intended, among other things, to promote sustainable fishing and to encourage the international community to set up a sanctuary for the bluefin tuna. In anticipation of the project's positive outcome, the Prince Albert II Foundation supports the WWF in encouraging retailers to stop selling bluefin tuna immediately.

Relaying the Foundation's action within the Principality of Monaco, the MC2D association (Monaco Développement Durable) sent out a letter to all Monegasque hotels and restaurants on 15th January asking them to take note of this threat and to join the action undertaken by banning the sale of bluefin tuna. The association also points out that these fish eat a large quantity of jelly fish and their disappearance will inevitably generate an imbalance of the Mediterranean ecosystem.

The Prince Albert II Foundation hopes that retailers and consumers alike will be responsive to this issue in order to prevent this symbolic species of the Mediterranean from dying out.