Back to the list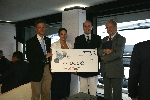 Monaco Yacht Show 2013
Monaco
On Saturday 28th September 2013, during the official visit of HSH Prince Albert II of Monaco to the Monaco Yacht Show (MYS), Gaëlle Tallarida, Managing Director of MYS and Peter Rigby, CEO of Informa Group, presented the Prince Albert II of Monaco Foundation with a cheque amounting to 44,000€ for its action to combat deforestation and its Wood Forever Pact programme.
The Wood Forever Pact is a project implemented by the Foundation to promote the use of timber sourced from sustainably managed forests in the yachting industry. The MYS, due to its status as a key international yacht show and its objective to combine luxury with respect for the environment, has been working together with the Foundation since the creation of the Wood Forever Pact in 2010.
This year, the Prince Albert II of Monaco Foundation decided to expand the reach of its message by suggesting to designers, furniture manufacturers, wood suppliers and yacht owners to join the Wood Forever Pact. The aim is that everyone involved in the yachting sector become aware of the role he/she can play in the virtuous forest protection approach.