Back to the list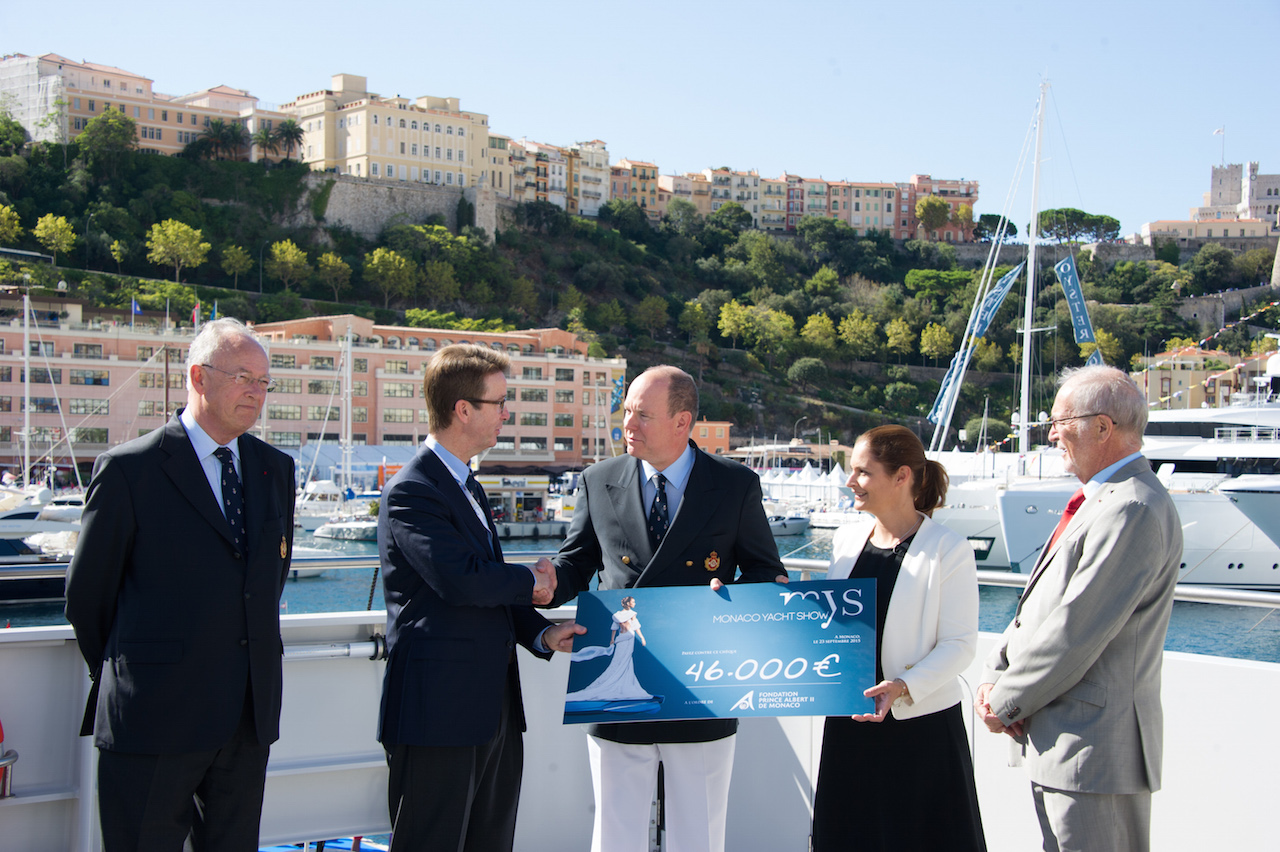 Monaco Yacht Show 2015
Monaco
On Wednesday 23rd September 2015, during the official visit of HSH Prince Albert II of Monaco to the Monaco Yacht Show (MYS), Gaëlle Tallarida, Director General of MYS and Stephen A. Carter, CEO of Informa Group, presented the Prince Albert II of Monaco Foundation with a cheque amounting to €46,000 for its action to combat deforestation and its Wood Forever Pact programme, on the Yersin.
The Prince Albert II of Monaco Foundation has been committed to fighting deforestation since its creation. The preservation of the tropical rainforests enables action to be taken in the Foundation's three priority focus areas: fight against climate change, protection of biodiversity and access to water.
After an extensive study concerning the various environmental issues generated by the yachting sector, the Foundation chose to focus its action on wood, a key component in yacht construction. The various types of wood found aboard are selected for their technical, mechanical and aesthetic qualities. Teak, mahogany, ebony... these tropical woods are used for decks and exterior fittings, as well as for the interior decor and furniture.
In 2010, the Prince Albert II of Monaco Foundation launched the Wood Forever Pact with the aim of helping yacht builders with an approach to use timber harvested from sustainably managed forests. The MYS, due to its status as a key international yacht show and its objective to combine luxury with respect for the environment, quite naturally decided to team up with the Foundation.
Over the years, the programme has developed and opened up to professions linked to the yachting world that use or advocate wood such as designers, furniture manufacturers and timber suppliers, with the aim of setting up a network. This union of professionals will have a leverage effect on the wood supply chain, which will result in a more environmentally friendly tropical wood offer and make super yachts the environmental flagship of the shipping industry.
The Wood Forever Pact network has made a commitment to use and promote timber harvested from sustainably managed forests.