Back to the list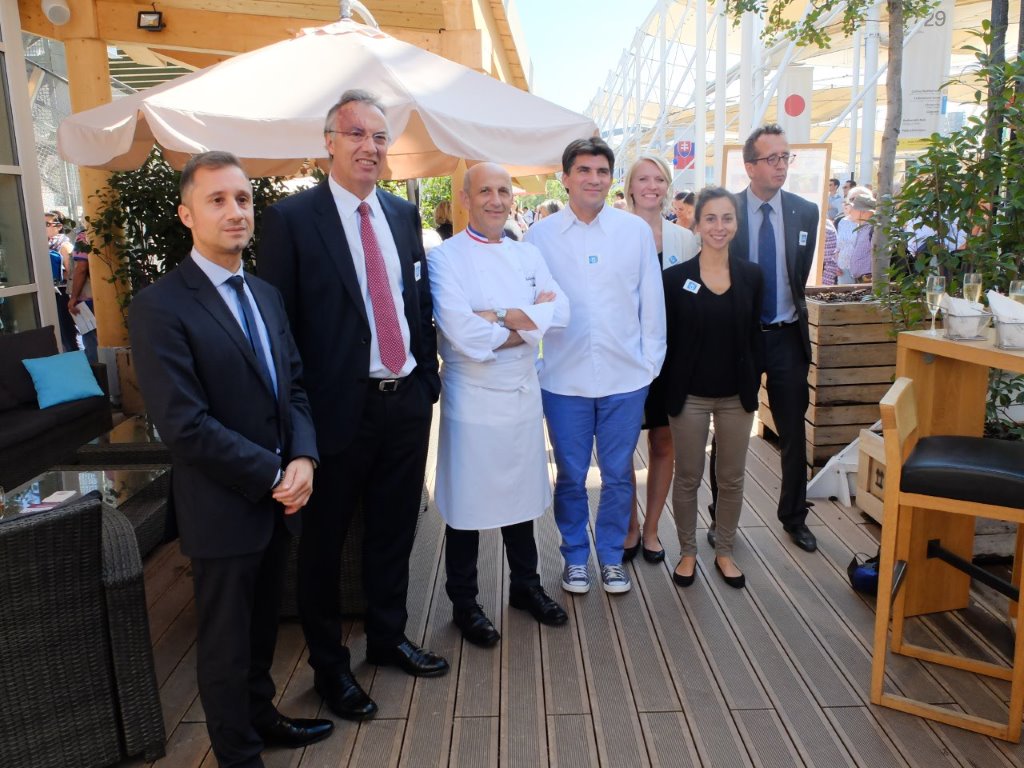 Mr Goodfish - Gastronomy Festival - Expo Milan
Monaco
On Friday 25th September Mr Goodfish celebrated gastronomy in the French and Monegasque Pavilions at the Universal Exposition in Milan for a special Mr Goodfish day, in partnership with the Prince Albert II of Monaco Foundation.
On this occasion, chefs Gaël Orieux from the Auguste restaurant in Paris and Philippe Joannes, Meilleur Ouvrier de France and Executive Chef at the Fairmont Monte Carlo, prepared Mr Goodfish seasonal fish throughout the day. Tastings took place in the Food Truck available in the gardens of the French Pavilion.
Chef Gaël Orieux chose brill and served it with parsley and garlic, buckwheat kasha, pickleweed, green beans and an apple cider reduction. Chef Philippe Joannes showcased the "Perles de Monte Carlo", oysters bred in the Principality, accompanied by pasta pearls and rosé champagne granita.
The chefs were welcomed by Mr Julien Cellario, Director General of Monaco Inter Expo and Alain Bergé, Commissioner General of the French Pavillion. They received the visit of Guillaume Garot, former French Minister for Agrifood and a strong advocate of sustainable and responsible food.
The Mr Goodfish culinary show, co-organised by Nausicaa and the Prince Albert II of Monaco Foundation, fitted in perfectly with the themes chosen by the French Pavilion: "Different ways of producing and providing food" and the Monaco Pavilion "Excellence and Solidarity, a new look at feeding the planet".
This year, Mr Goodfish is celebrating its 5th anniversary. Launched in March 2010, the Mr Goodfish programme has continued to raise public awareness concerning the importance of consuming seafood products in a sustainable manner. The programme is aimed at making the consumer an active player in the preservation of marine resources by publishing every season a list of sea products recommended by experts in this area. The aim of the programme is to protect weakened seafood stocks by consuming other readily available stocks. The programme developed in all tourist sites also involves restaurant and fishmongers who play a key role at the time of purchase. "Choosing the right fish is good for the sea and good for you".
You can see the list of seafood products recommended for the season, find simple recipes devised by top chefs and all the latest Mr Goodfish news on the website www.mrgoodfish.com.
THE UNIVERSAL EXPOSITION OF MILAN
The Universal Exposition of Milan took place from Friday 1st May to Saturday 31st October 2015. This Universal Exposition had completely new and innovative features. It went beyond the simple concept of housing an exhibition thanks to a participatory process aimed at actively involving many players with a crucial key focus: "Feeding the Planet, Energy for Life"
Key figures: 184 exhibition days, from 1st May to 31st October 2015, over 130 participating countries, and more than 20 million visitors expected on a site of over one million m2