Back to the list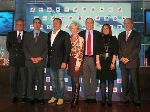 No bluefin tuna on Monaco shelves and menus
Monaco
No bluefin tuna on Monaco shelves and menus
All restaurants, retailers and chefs in the Principality of Monaco have removed endangered Atlantic bluefin tuna from their shelves and menus until stocks of the fish have recovered and the fishery and trade are managed in a sustainable way.
WWF congratulates Monaco – a Mediterranean state with a strong tradition of fishing and eating bluefin tuna – for being the first territory in the world known to achieve this bluefin-free status.
"The unanimous move of Monaco restaurants and shops to remove bluefin tuna from their shelves and menus in light of the worrying deterioration of this emblematic species will draw attention to the crisis in this fishery," said Philippe Mondielli, Scientific Director of the Prince Albert II of Monaco Foundation.
"WWF applauds Monaco for becoming the first country in the world to be entirely free of endangered Mediterranean bluefin tuna," said Dr Sergi Tudela, Head of Fisheries at WWF Mediterranean. "WWF encourages other countries to follow Monaco's example until the species can be considered a sustainable seafood product."
There is growing support for a listing of Atlantic bluefin tuna under Appendix I of the Convention on International Trade in Endangered Species of Wild Fauna and Flora (CITES). A global trade ban tied explicitly to the survival of the species would turn around the management failure and disrespect for scientific advice so rampant in this fishery. CITES next meets in Doha in early 2010.
The Prince Albert II of Monaco Foundation is supporting WWF's bluefin tuna work in the Mediterranean through conservation activities including a pioneering tuna tagging project, 'On the Med tuna trail'. Data provided by the tags are improving scientific understanding of this migratory species and will thus contribute to better management decisions.
For more information:
Gemma Parkes, WWF Communications Officer: t +39 346 387 3237, e gparkes@wwfmedpo.org
Note to editor:
 Atlantic bluefin tuna is mostly caught in the Mediterranean Sea which constitutes the main spawning ground for the species.
 Further details of the Mediterranean bluefin tuna crisis are available at: www.panda.org/tuna .