Back to the list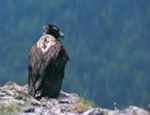 On 5th June, H.S.H. Prince Albert II of Monaco and Chantal Jouanno, the Secretary of State for Ecology, will participate in the final release of the bearded vultures in the ''Parc National du Mercantour''.
Monaco
On the occasion of World Environment Day on 5th June 2009, the final release of bearded vultures will take place in the village of Roubion. A key event bringing the reintroduction programme of these birds to the Southern Alps to a successful close. The programme was initiated in 1993 in the Parc National du Mercantour and alternately in the Parco Naturale Alpi Marittime.
This historic release - the last in the French Alps - will take place in the presence of H.S.H. Prince Albert II of Monaco and Chantal Jouanno, the Secretary of State for Ecology, together with the managers of both parks.
Monaco's Sovereign Family has supported the Parc National du Mercantour since it was created in 1979 and throughout its first 25 years of existence. The Prince Albert II of Monaco Foundation has been involved in the programme since the beginning, within the scope of its activities dedicated to the preservation of biological diversity. The Foundation's involvement consisted in the acquisition of two young birds a year for a three-year period (2007-2008-2009), their release and their monitoring by means of Argos tags and GPS (www.mercantour.eu/gypaete). The release of bearded vultures in 2007 was symbolic as this was the newly established foundation's first real accomplishment.
The French Ministry for Ecology, Energy, Sustainable Development and Town and Country Planning, together with the national parks of France, has undertaken to combat the erosion of biodiversity. Chantal Jouanno's presence in a national park on World Environment Day reaffirms their pre-eminent role in protecting our country's biodiversity. This presence will also be seen as an acknowledgement of the success of this international programme for the reintroduction of the bearded vulture by all those involved in the Mercantour since 1993. It is worth mentioning that the first bearded vulture chick hatched in the Southern Alps in 2008; a first for over a century!
Finally, the Parc National du Mercantour and the Parco Naturale delle Alpi Marittime recently embarked on an exploration, unique in Europe. An all-taxa biodiversity inventory has just been launched on their territory covering approximately 2500km², making it probably the most ambitious inventory worldwide. It involves listing every living species, from the largest to the smallest, the first owing their existence to the second. The reintroduction of a species as symbolic as the bearded vulture provides us with an opportunity to point out that there is still room to enhance our knowledge of the living world, in particular those we label as less "noble" species. This is exactly what this inventory aims to achieve. It will also enable us to establish whether biodiversity is disappearing in the Mercantour, and, if so, at what rate (www.mercantour.eu).