Back to the list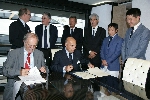 Partnership agreement signed between the Prince Albert II of Monaco Foundation and RINA
Monaco
On Saturday 28th September, during the official visit of HSH Prince Albert II of Monaco to the Monaco Yacht Show, the Prince Albert II of Monaco Foundation and the Italian certification body RINA, signed a partnership agreement aboard the Ocean Paradise from the Benetti shipyard.
Aware of their common objective of increasing awareness of environmental issues within the yachting industry, the Prince Albert II of Monaco Foundation and RINA decided to define the basis of their cooperation. Through this partnership, the two entities agree to take joint action by:
Incorporating membership to the Wood Forever Pact in the rating criteria for Green Plus certification, issued by RINA to environmentally-friendly yachts, in order to promote the use of timber from sustainably managed forests in the yachting industry.

Organising an annual meeting to make yacht builders aware of the importance of preserving the largest forests on our planet.
The agreement was signed by Mr Ugo Salerno, Chief Executive Officer of RINA and H.E. Mr Bernard Fautrier, Vice-President and Chief Executive Officer of Prince Albert II of Monaco Foundation.
This partnership is in line with a conscious and well-thought out approach for builders who want to offer eco-friendly yachts.