Back to the list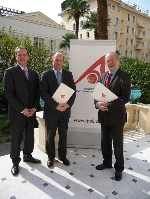 Partnership between the Prince Albert II of Monaco Foundation and Bureau Veritas
Monaco
On 28th February 2009, the Prince Albert II of Monaco Foundation and Bureau Veritas Monaco signed a partnership agreement on the premises of Villa Girasole, the Foundation's head office.

Aware of the complementary nature of their expertise, the Foundation and Bureau Veritas wish to successfully implement joint projects for the promotion and preservation of the environment in the Foundation's priority areas: climate change and renewable energies, biodiversity, water and the fight against desertification.

Within the framework of this transfer of skills, Bureau Veritas will be able to provide the Prince Albert II of Monaco Foundation with expertise concerning design, consultancy, appraisal and certification. Such expertise will apply to the identification, selection and also evaluation of projects supported by the Foundation.

Furthermore, Bureau Veritas has indicated that it is keen to organise, in close collaboration with the Prince Albert II of Monaco Foundation, one of the "Bureau Veritas Meetings" in the Principality of Monaco at the end of 2009. The session will be focused on the challenges relating to sustainable building guidelines.

The partnership is a perfect example of the Foundation's intent to work with recognised experts in order to help select and manage its projects and carry them through to a successful conclusion.