Back to the list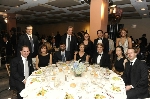 Prince Albert II of Monaco Foundation and the United Nations Correspondents Association (UNCA) common Award
Monaco
The first recipients of the Prince Albert II of Monaco Foundation and the United Nations Correspondents Association (UNCA) global prize for coverage of climate change were honoured on 4th December 2009 at the UNCA annual Gala Dinner. The winners are: Messrs Nathanial Gronewold (gold medal), John Heilprin (silver medal) and Ilya Gridneff and Ms Natasha Loder (bronze medals), United Nations correspondents respectively for E&E Publishing, the Associated Press, the Australian AP, Papau New Guinea and The Economist.
Mr John B. Kelly III, President of the Prince Albert II Foundation USA, recalled the Foundation's main objectives in favour of environmental protection and sustainable development and pointed out the key role of "those who raise our awareness of the current critical problems and by so doing actively contribute towards combating climate change".
The UN Secretary General, H.E. Mr Ban Ki-Moon then presented the memorial medals to the winners.
The honoured journalists were invited to take part in the Gala evening and celebrate the event with the guests of the Ambassador, the Permanent Representative to the United Nations, H.E. Ms Isabelle Picco: Mr John B. Kelly, President of the Prince Albert II Foundation-USA and his wife Karen, Ms Maguy Maccario-Doyle, the Principality's Consul General in New York and Vice-President of the Prince Albert II Foundation-USA, Ms Joanna Rubinstein, Director of strategic programmes, the Earth Institute, Columbia University, Mr Ellis Rubinstein, President of the New York Academy of Sciences, Mr David Monsma, Executive Director of the Aspen Institute, Ms Angela Chen, Director of Global Alliance LLC, Mr Adnan Amin, Director of the UN System Chief Executives Board and Mr Tariq Banuri, Director of the United Nations Division for Sustainable Development.
The Prince Albert II of Monaco and UNCA global prize on climate change now features along with the three other prizes awarded: for written media coverage, including online media, the Elizabeth Neuffer Memorial Prize; for broadcast coverage, the Ricardo Ortega Memorial Prize, both on the work carried out by the United Nations and its Agencies; and the United Nations Foundation Prize for humanitarian affairs and development.
Mr William H. Roedy, President of MTV Networks International has been designated Global Citizen of the Year and Mr Nicolas Cage has been given recognition for his humanitarian work and appointed Goodwill Ambassador for the United Nations Office on drugs and crime.