Back to the list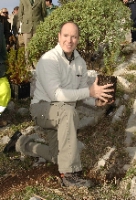 Reforestation Programme, the creation of the first carbon sink in Europe
Monaco
The signing of a convention for co-operation

Within the framework of action undertaken on the initiative of H.S.H. the Sovereign Prince in the field of sustainable development and the conservation of the environment, a convention for co-operation has been signed today between the Monaco Government, the Prince Albert II of Monaco Foundation and the French National Forest Office.

This document constitutes the extension of a partnership instigated in 1979 between the Principality and the ONF (National Forest Office), which has resulted in various reforestation programmes, as well as the planting of approximately 340,000 trees over several hundred hectares of natural green area destroyed by fire in the neighbouring region.

It also falls within the scope of the implementation of undertakings made by the Principality regarding the Kyoto Protocol concerning the reduction of greenhouse gas emissions. Last but not least, it also constitutes the implementation of the "Plant for the Planet: billion tree" campaign (that H.S.H. the Sovereign Prince sponsors together with Wangari Maathaï, Nobel Peace Prize Winner).

Prior to the signing of the convention, and on the initiative of the Monegasque Association for the Protection of Nature, a tree planting operation took place with the participation of H.S.H. the Sovereign Prince in the communities of Cap d'Ail and La Turbie. School children from Monaco and the French communities concerned also took part in the operation.

The convention proposes implementing forest sequestration projects in the department of the Alpes Maritimes and on an international level through ONF International. In addition to the environmental interests, such collaboration will also take on a scientific dimension with the financing, by the Principality, of a research programme in France on the potential of Mediterranean forests for the storage of carbon.

The convention was signed by Pierre Olivier Drege, Director General of ONF, Henri Fissore, Government Counsellor for External Relations on behalf of the Government of H.S.H. the Sovereign Prince and His Excellency Bernard Fautrier, Vice-President of the Prince Albert II Foundation. The signing took place in the place known as Belvédère, located in the communities of Cap d'Ail and La Turbie, in the presence of Eric Falt, Director of UNEP Communications and Information and the Town Councils of Cap d'Ail and La Turbie.