Back to the list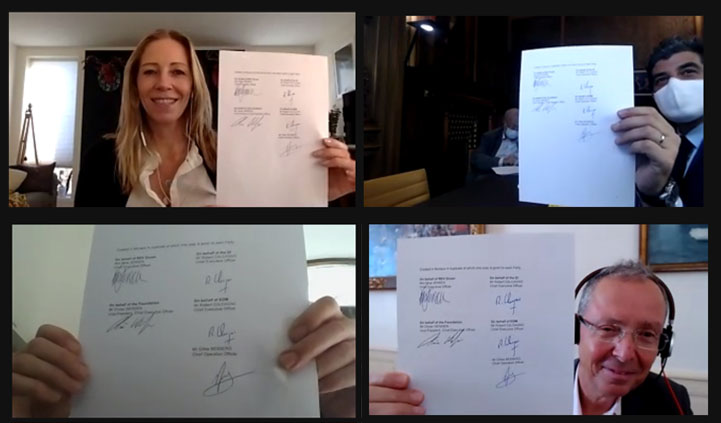 REV Ocean, The Prince Albert II of Monaco Foundation, the Oceanographic Institute and Monaco Explorations join forces to foster a healthy Ocean
Monaco
The agreement, signed virtually on November 5, marks the beginning of a partnership between REV Ocean and the three Monaco institutions working on ocean sustainability.
Nina Jensen, CEO of REV Ocean, commented "This is a great opportunity to work with some of the most prominent marine conservation organisations in the world. HSH Prince Albert II and his foundation have been responsible for launching a phenomenal number of projects to develop marine protected areas and study the impacts of climate change. It is very exciting to think about what we will achieve by combining this level of commitment with the world's largest research vessel."
Monegasque institutions are implementing the commitment of HSH Prince Albert II for the environment, notably by fighting against climate change and its effects, preserving biodiversity and combating pollution at its source. Around the Prince, they join forces to relay scientific knowledge, mobilise decision-makers and involve the public. As summed up by HE Mr Bernard Fautrier, Special Advisor to the Sovereign Prince on environmental issues "This partnership is in line with the collective action for the Ocean advocated by Monaco, from research in the field to the transformation of society. We are delighted to enter into this partnership with a like-minded partner, REV Ocean, especially at the beginning of the UN Decade of ocean science for sustainable development".
One of the major components of the agreement will be to jointly develop projects which will combat the negative impact of climate change and plastic pollution in the Ocean. These projects will draw on the considerable experience of all parties and the capabilities of the REV Ocean vessel to initiate cutting edge research activities aimed at giving policy makers the tools needed to save coral reefs.
REV Ocean is unique in being both a world class research vessel and a state-of-the-art eco superyacht. To this end, the partners have agreed to work together at events such as the Monaco Yacht Show to ensure the industry becomes a force for good for protecting the oceans.
The partners will also work together to create a global data alliance between the various ongoing efforts to collect, organise and share ocean data, specifically for coral reef management.
REV Ocean
REV Ocean is a not-for-profit company created with one overarching purpose and ambition – to make our oceans healthy again. Established in Norway in 2017, REV Ocean's mission is to enable and inspire ocean solutions and combat the negative pressures currently affecting the ocean. The science strategy is focussed on dealing with the issues of plastic pollution, climate change, and the environmental impacts of unsustainable fishing.