Back to the list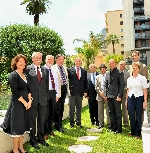 Scientific and Technical Committee Meeting
Monaco
On Friday 10thJune 2011, H.S.H. the Sovereign Prince welcomed the members of the Foundation's newly composed Scientific and Technical Committee, recently approved by the Board of Directors. On this occasion, three new members joined the Committee:
Mr Thomas Grenon, Director General of the Paris Natural History Museum,
Dr Olav Orheim, Norwegian glaciologist and climatologist,
Mr Guillaume Sainteny, Member of the French National Council for Sustainable Development, Professor at the Ecole Polytechnique in Paris.
The meeting was devoted primarily to examining new projects concerning Climate Change, Biodiversity and Water. Projects which have received the positive opinion of the Scientific and Technical Committee will be submitted for the approval of the Board of Directors on 7th October 2011.
The meeting concluded with the screening of the film "The Wings of the Sun" presenting the solar powered aeroplane "Solar Impulse".The film was shown in the presence of forty or so year 11 students from Monaco, who had the opportunity to talk to Bertrand Piccard, a member of the Foundation's Scientific and Technical Committee, about the approach implemented to promote renewable energies. At the end of the film, the two Monegasque students belonging to the "LEAP team", an American programme set up by Erik Lindbergh, gave a presentation on their personal experience at the "E-Flight Expo" in Friedrichshafen devoted to new technologies in electrical aviation.