Back to the list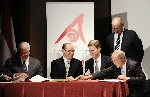 Signing of a memorandum of understanding between the Prince Albert II of Monaco Foundation and the Field Museum
Monaco
During his trip to the United States, H.S.H. the Sovereign Prince visited the Field Museum of Natural History in Chicago on October, 13th.

The Museum, established at the end of the 19th century, regroups major biological and anthropological collections and boasts over twenty million specimens.

In addition to extensive educational activities completed by numerous important permanent or temporary exhibitions, the Field Museum hosts, in its 100,000 m2, various research activities within the fields of biology, zoology, anthropology and geology.

After visiting a certain number of exhibitions and research laboratories, as well as an exhibition focused on the Principality's environmental involvement, the Sovereign Prince, accompanied by the Mayor of Chicago, Mr Daley, was introduced to the recent activities carried out by the Field Museum's research teams, in relation to areas that may give rise to co-operation projects with the Prince Albert II of Monaco Foundation.

These presentations included the development of paleontological research in the Arctic Region, the preservation of biodiversity in Madagascar and the Philippines, biodiversity inventories in the Andes region and Amazonia, and perspectives for international agreements on averted deforestation.

A memorandum of understanding between the two institutions was signed during the visit by Mr John Mac Carter, President and CEO of the Field Museum and H.E. Mr B. Fautrier, Vice President and CEO of the Prince Albert II of Monaco Foundation, as well as Mr J.B. Kelly, President of the US branch of the Foundation.

H.S.H. the Prince was also accompanied on this visit by H.E. Mr G. Noghés, Ambassador of Monaco to the United States, Ms M. Maccario Doyle, General Consul of Monaco in New York and Vice President of the US Branch of the Foundation, and Mr Albert Manzone, Consul of Monaco in Chicago.