Back to the list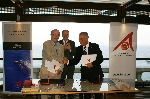 Signing of a partnership between the Fairmont Monte Carlo and the Prince Albert II of Monaco Foundation on 17th July 2009
Monaco
After signing a framework partnership agreement on 17th January 2008 with the Fairmont Hotels & Resorts Inc., a leader in the sustainable management of hotel establishments promoting eco-friendly tourism, the Prince Albert II of Monaco Foundation and the Fairmont Monte Carlo have decided to carry through their joint commitment to defend the environmental cause by signing a new specific partnership agreement on 17th July.
Aware of the complementary nature of their expertise and scope of action, the Prince Albert II of Monaco Foundation and the Fairmont Monte Carlo are eager to implement successful awareness projects in order to promote the protection of biodiversity, particularly in the Mediterranean.
The partnership's first joint project will take place here in Monaco at the Fairmont Monte Carlo. A brochure, specifically designed for the occasion, will be placed in the hotel guestrooms, asking guests to support the protection of the striped dolphin (Stenella coeruleoalba), a Mediterranean species classified as endangered. Climate change and pollution cause elevated water temperatures and acidity, which disrupt the ecosystems in the Mediterranean Sea – the striped dolphin may therefore disappear.
To protect this species, scientists are now studying the genetic differences between the various populations of the striped dolphin living in the Mediterranean. The aim of this study is to assess their vulnerability and to gain an insight into their distribution in specific sectors of the Mediterranean Basin. Protection zones will then be defined on the basis of the results.
The Prince Albert II of Monaco Foundation is delighted to join forces with the Fairmont, which via its Green Partnership Program, promotes sustainable tourism throughout the globe.
Further information concerning the signing of the partnership with the Fairmont Hotels & Resorts Inc.: www.fairmont.com/nr/exeres/d9099fc0-4d6f-4c61-b675-2fd6f81caac5.htm
To find out more:
www.fairmont.com/fr/montecarlo
CONTACTS:
Isabelle Peters Claudia Batthyany
Prince Albert II of Monaco Foundation Fairmont Monte Carlo
Tel: +377 – 98984444 Tel: +377 - 93154866
ipeters@fpa2.mc claudia.batthyany@fairmont.com