Back to the list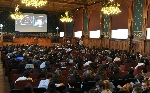 Students on Ice
Monaco
The 2011 edition of "Students on Ice", initiated by the Monégasque Department of National Education, Youth and Sport and with the support of the Prince Albert II of Monaco Foundation, has just been launched at the Oceanographic Museum in the presence of H.S.H. Prince Albert II of Monaco and numerous personalities from the Principality.
The Prince Albert II of Monaco Foundation supports various projects in the Polar Regions and at the same time alerts public opinion, youth in particular, on the impact of climate change in both the Arctic and the Antarctic.
Students on Ice, an international project that gives young people from across the globe the opportunity to take part in an educational expedition to the Polar Regions, is supported by the Prince Albert II of Monaco Foundation and has enabled two secondary school students from the Principality to join in this adventure.
Marine and Julie from the Lycée Albert I travelled to the Arctic in the summer of 2010. They gave an account of their voyage by sharing their knowledge and emotions with the 317 lower sixth form pupils from the Principality of Monaco. The next lucky participants will be selected through a photo competition on the theme "Trees and Monaco" or by sending an open letter answering the following question:"Proposals for new maritime routes across the Arctic:what will be the impact on global warming?"In August 2011, the two new winners of the "Students on Ice" competition will in turn set off for a three week trip to this Polar Region on a journey of discovery and awareness concerning environmental protection.
As a prelude to this presentation, a link-up was established between the Princess Elisabeth Station in the Antarctic and the Principality, 13,000 km apart. Alain Hubert, currently on an assignment in this station, was consequently able to talk live with H.S.H. the Sovereign Prince and answer the students' questions.