Back to the list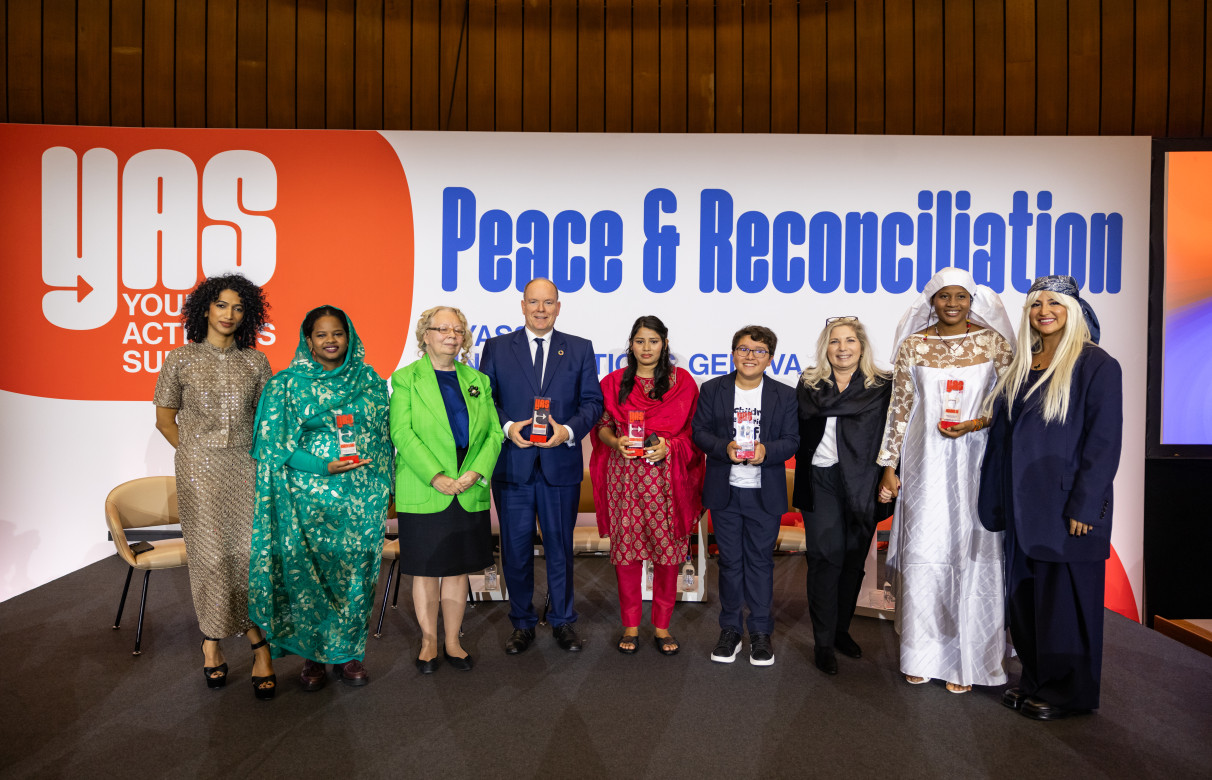 The 2023 Young Activists Summit honours five young activists at the United Nations in Geneva during a live event with the participation of Prince Albert II of Monaco
Events
Press release
Initiative
The five Laureates received donations to carry out field projects, on the occasion of the 2023 Young Activists Summit. Around 20,000 participants from 144 countries participated online in the Summit which focused on peace and reconciliation.

"It is as a man of mature years, that I would like to speak to you today, not to lecture you, you don't need to be lectured at all, especially by generations who are leaving the planet, the world, and peace in such a sorry state. What my age has to tell you is the opposite of a lecture. It is an encouragement. Encouragement to take course of action, to maintain your enthusiasm, your optimism and your desire to change the world.", H.S.H. Prince Albert II of Monaco stated as he opened the 5th edition of the Young Activists Summit at the Palais des Nations in Geneva, Switzerland.
This edition honoured five young activists from all around the world for the remarkable impact they have driven in their communities to advance peace within their communities, and reconcile humans with nature:
Maung Sawyedollah, 22, Myanmar - Rohingya people's rights
Maïmouna Ba, 27, Burkina Faso – Peacebuilding in the Sahel region
Nisreen Elsaim, 29, Sudan - Climate action for peace
Francisco Vera, 14, Colombia - Environmental protection
Roshni Perween, 25, India - Child marriage prevention
The Summit was moderated by Trisha Shetty, founder of the NGO SheSays, and Vogue India's Woman of the Year. It saw the performance of Niki Black, who sang "Imagine" a cappella as a message of peace.

The 650 participants in the room observed a moment of silence to pay tribute to all victims of conflict, violence, and climate change around the world.
"We are facing many, many challenges in the world. We are facing lots of human tragedies. We are facing lots of human loss and conflicts, and we need you, young people, to help us to find solutions.", UN Geneva Director-General Tatiana Valovaya said.
This event reaffirms and is fully in line with the Prince Albert II of Monaco Foundation's ongoing commitment to future generations. A beacon of hope and optimism for our planet, the Summit highlighted the exceptional work of the young laureates, underlining the importance of their action for peace, reconciliation and environmental protection. The Foundation remains firmly committed to supporting these inspiring initiatives and encouraging young leaders to maintain their enthusiasm and determination to make a positive contribution to global change.

The Summit is organized by the United Nations Office at Geneva, the NGO dev.tv, Radio Télévision Suisse (RTS), and the Graduate Institute of International and Development Studies.

For more information: www.youngactivistssummit.org

©Young Activists Summit / Pierre Albouy